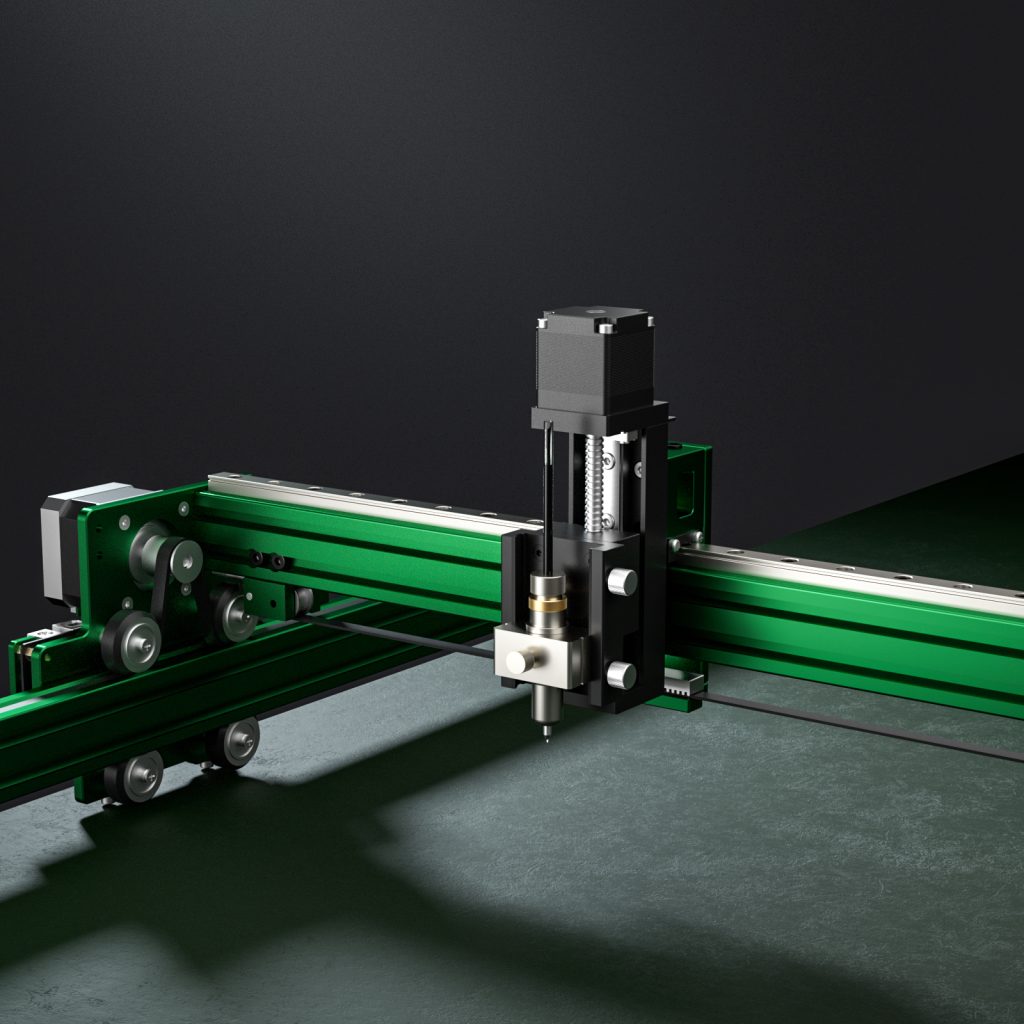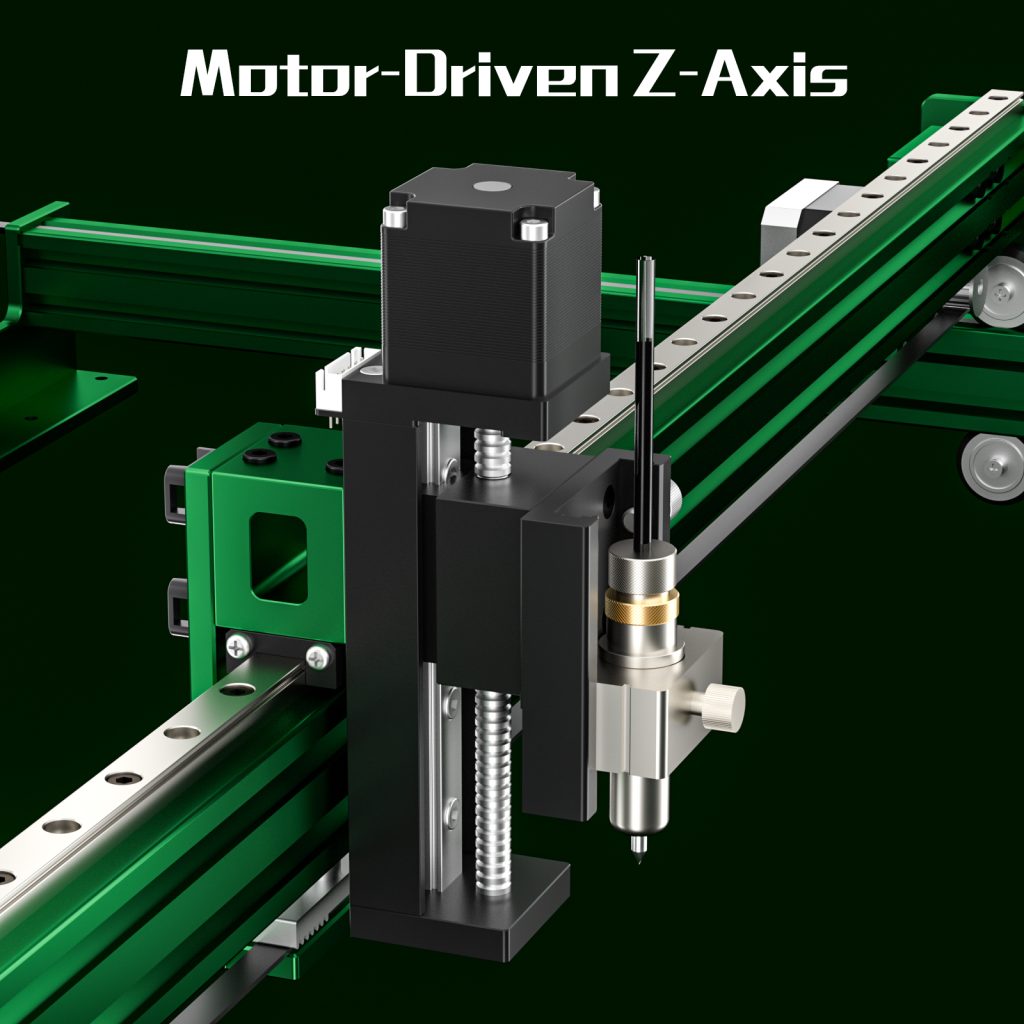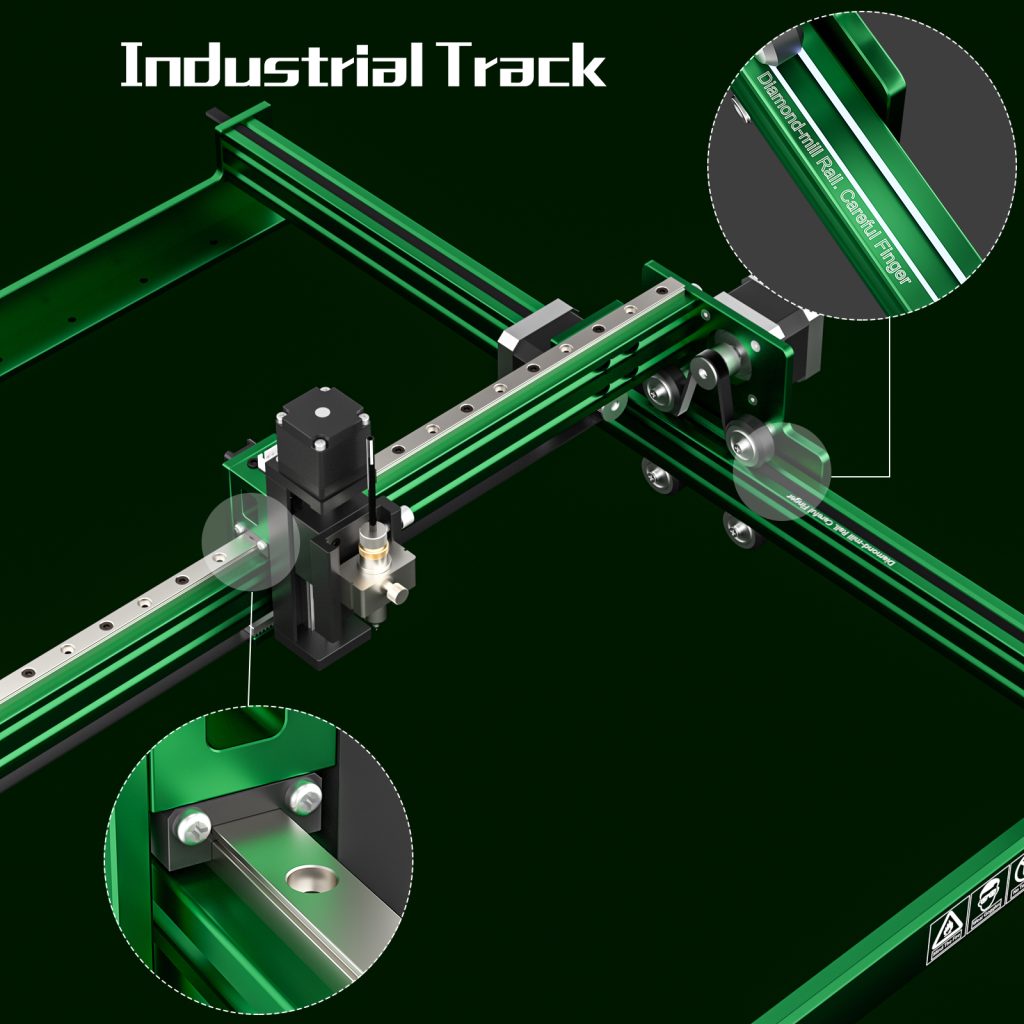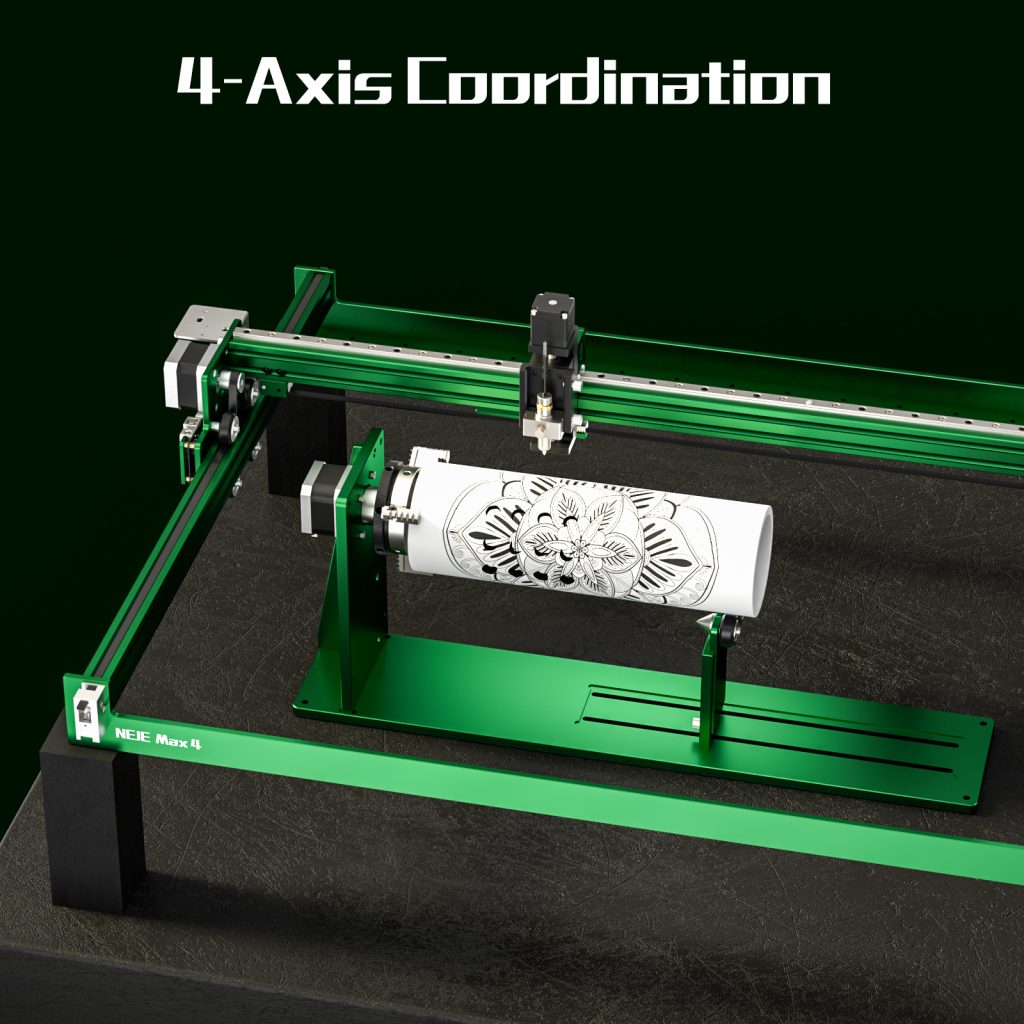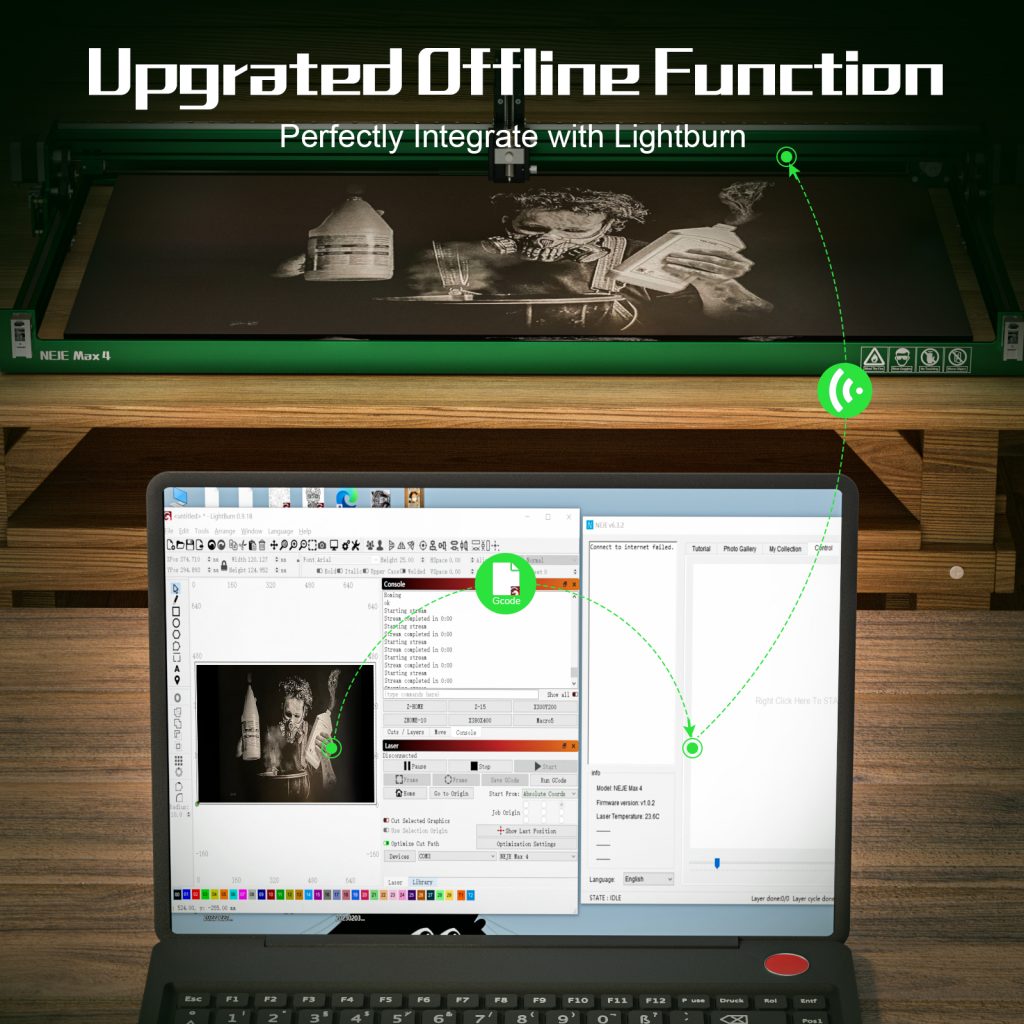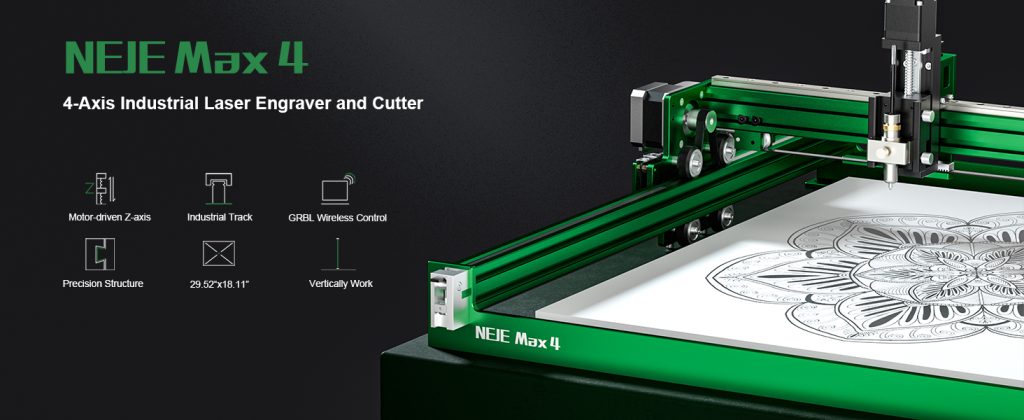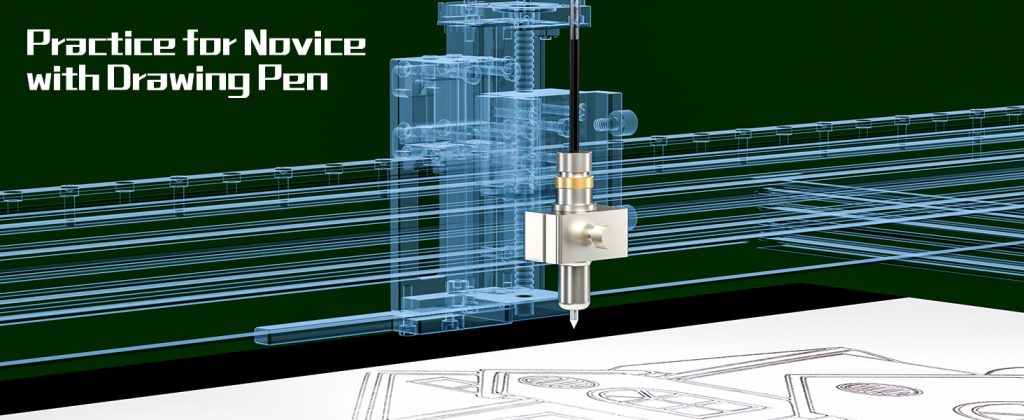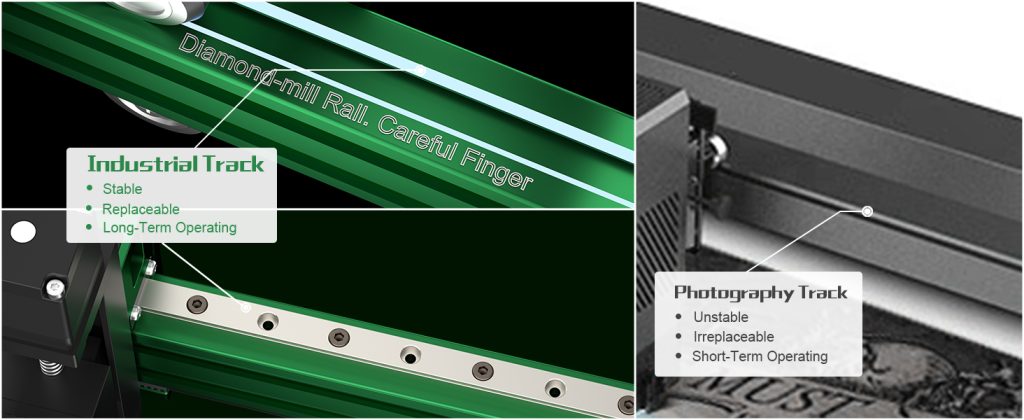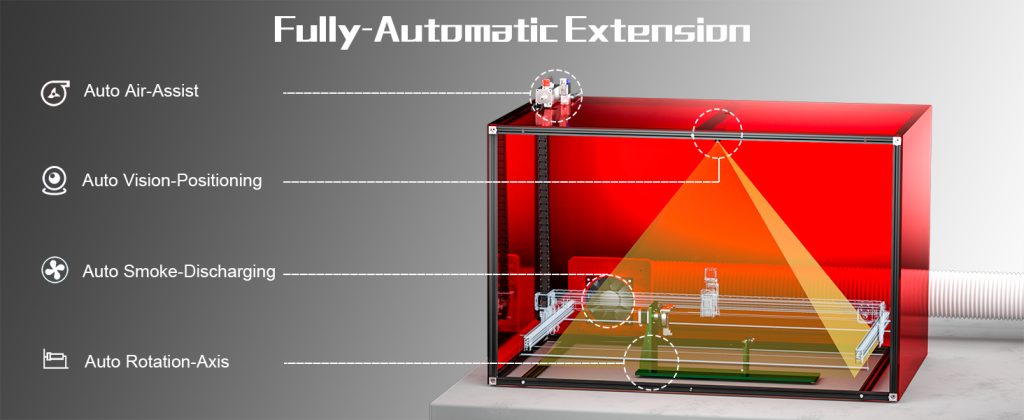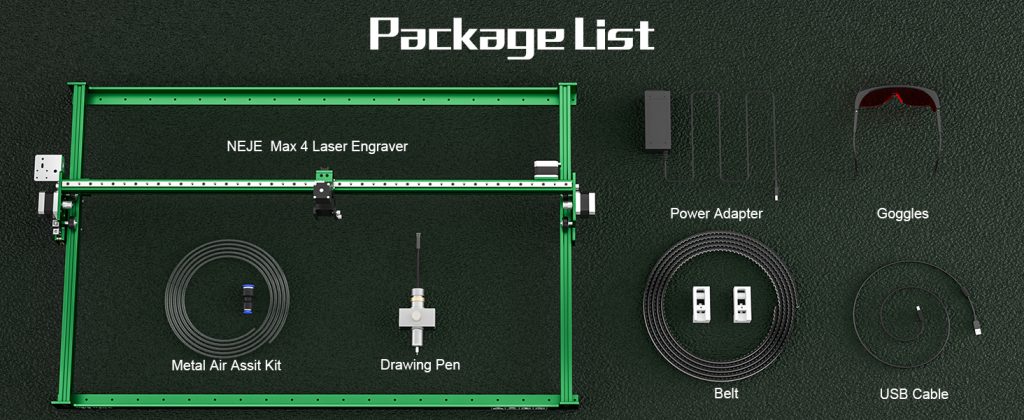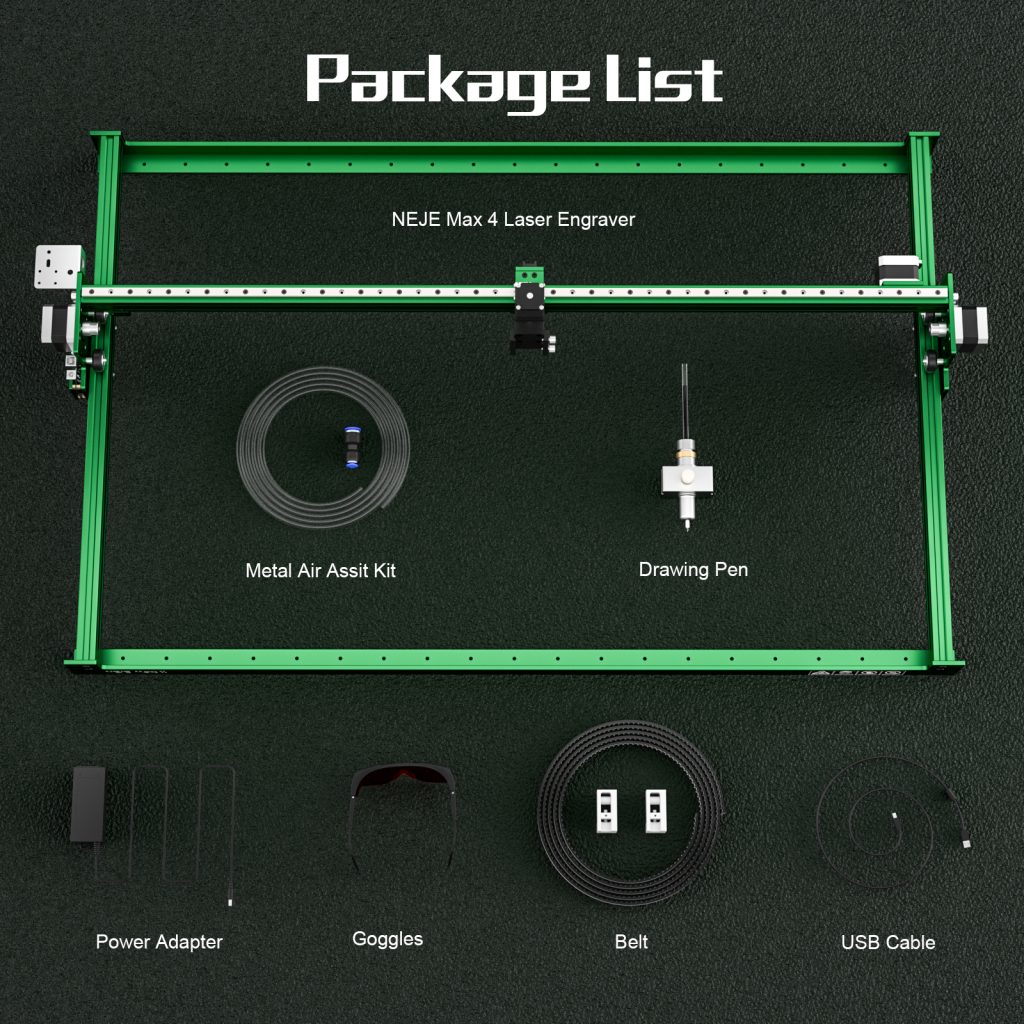 SPECIFICATION
NEJE 4 Max Laser Engraver Frame
| | |
| --- | --- |
| Frame Size (L – W – H): | 970x582x60mm |
| Working Area( X – Y): | 750 x 460mm, Extends to 750x1030mm |
| Drive Accuracy: | XY-axis repeat positioning accuracy 0.01mm, Z axis 0.001mm |
| Number of Controllable Axis: | X,Y,Z,A four axis |
| Input Voltage: | 12V / 24V, Match according to module voltage |
| Limit Switch: | Yes, both XYZ |
| Max Move Speed: | 750mm/s |
| | |
| --- | --- |
| GRBL Offline Control: | Yes |
| Drawing Pen: | Yes |
| M7,M8,Door Extension: | Yes |
| App control: | Yes |
| MEMS: | Yes |
| NEJE Software OTA Upgrade: | Yes |
| Vertical Carving: | Yes(90°) |
| Systems Support: | Win 7/Win 8/Win 10, Android, iOS, ipadOS, macOS |
| File Format Supports: | .GC/SVG/DXF/JPG/JPEG/PNG/BMP/TIF/CR2/AI/SC/etc. |
FEATURRE
New Electric Z-Axis:The NEJE 4 Max laser engraver is fully upgraded.Electric Z-axis with high precision is added, which can load up to 1kg and travel 45mm. It realize high-precision repositioning with the accuracy of 0.001 mm. In the lightburn software, the focus distance of each layer can be set automatically, and the thicker material can be cut efficiently through the control of the Z-axis. Meanwhile, we will send a drawing pen as a freebie, which is suitable for novice to practice.
Industrial Track: The upgraded NEJE 4 Max laser engraver for wood and metal is equipped with an industrial-grade maintainable track.The service life is up to 20,000 hours. Through reasonable design and precise processing technology, the precision of the frame is improved, and the mechanical precision reaches 0.01 mm. The machine adopts a higher hardness alloy frame, which effectively eliminates the vibration of the equipment and improves the stability of the machine.
Four-Axis Control System: NEJE Max 4 is the first laser engraving machine on the market that can realize 4-axis collaborating. Through the collaborating of X-axis, Y-axis, Z-axis, and A-axis, it can automatically complete more precise processes. Through expandable functions, the machine can automatically complete M7, M8 auto smoke discharging, air assist, door safety functions and visual positioning functions, and perfectly integrated with various extended functions of lightburn.
Support Wireless Offline Work: NEJE 4 Max supports wireless offline work. You can create everything you want in Lightburn and use NEJE software to operate the machine wirelessly. Offline work distance within 10 meters is available.Without computer's restrictions, you can operate the machine anytime and anywhere. NEJE provides a 2-year warranty for products sold. If you have any questions, please check our support website, where you can get professional technical support in time.
Relate post
Topic
Other support