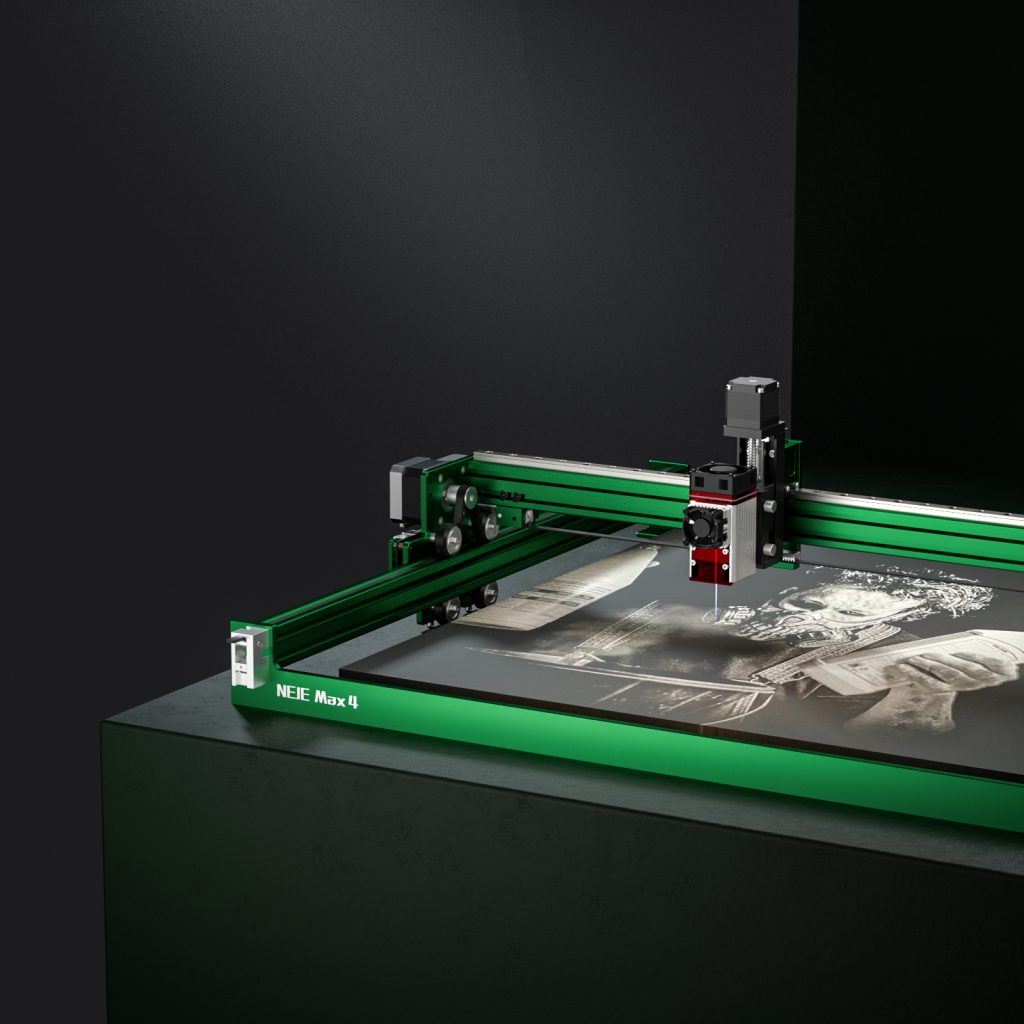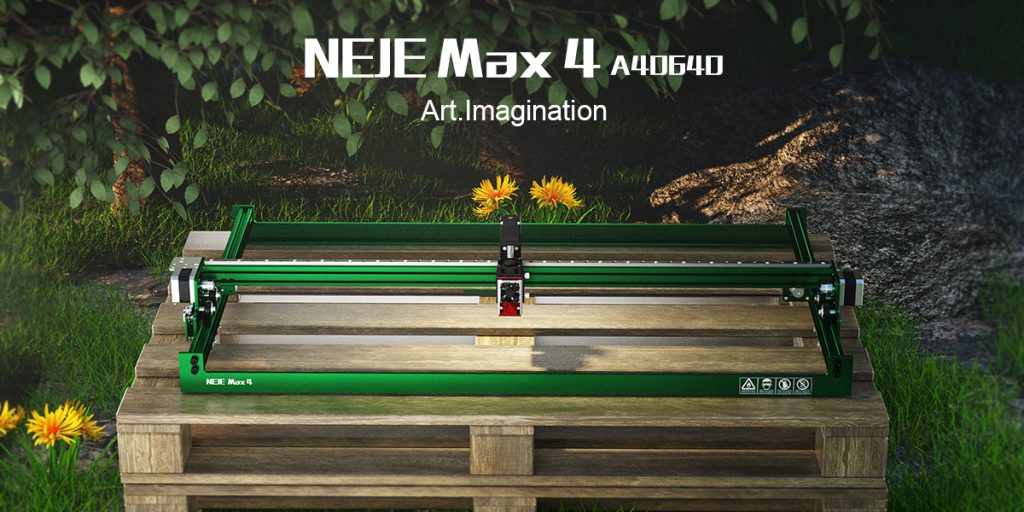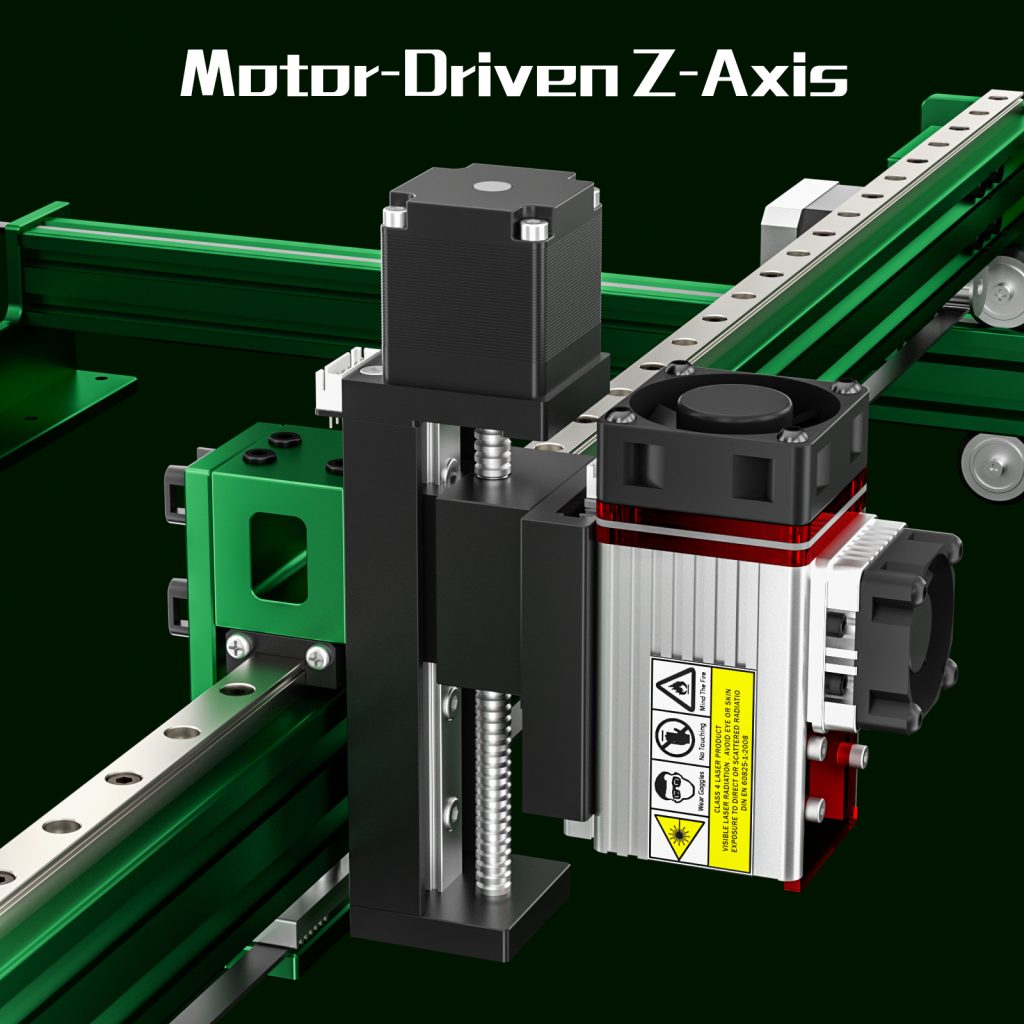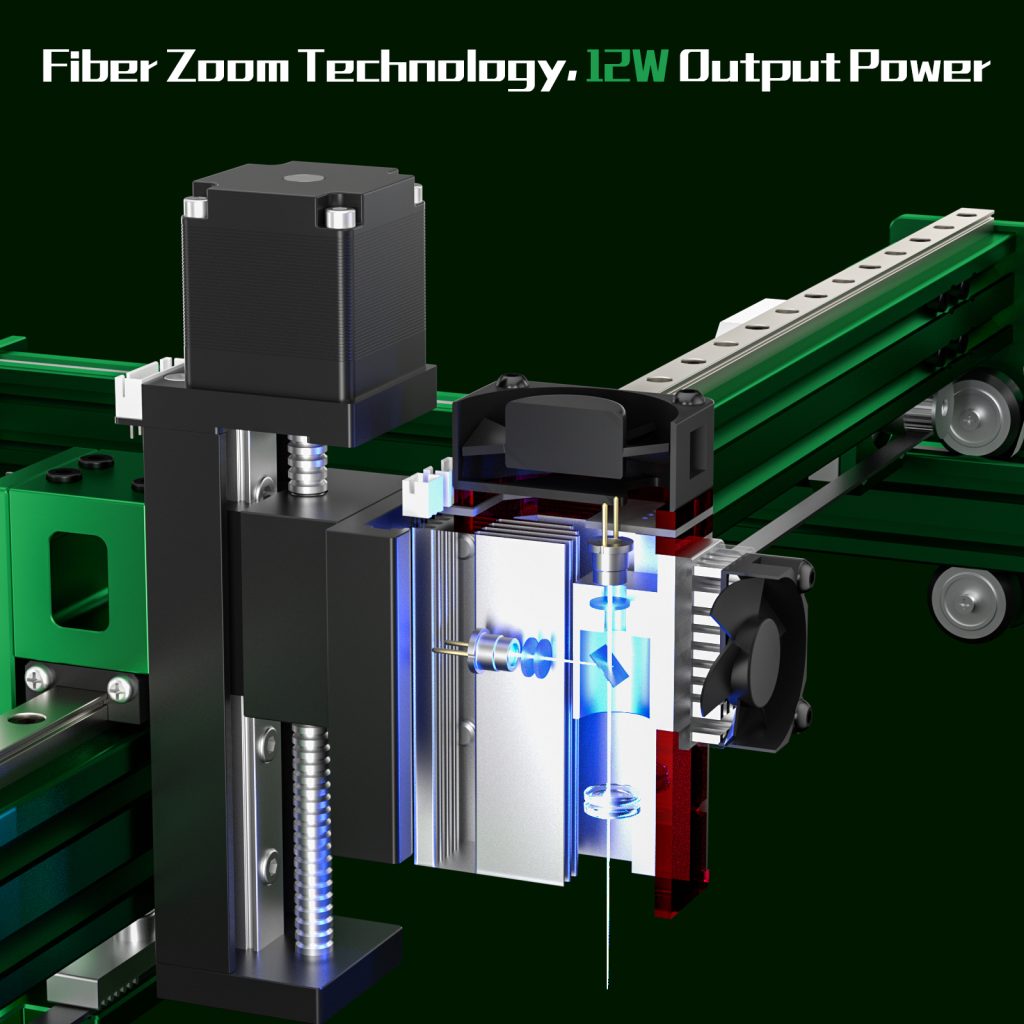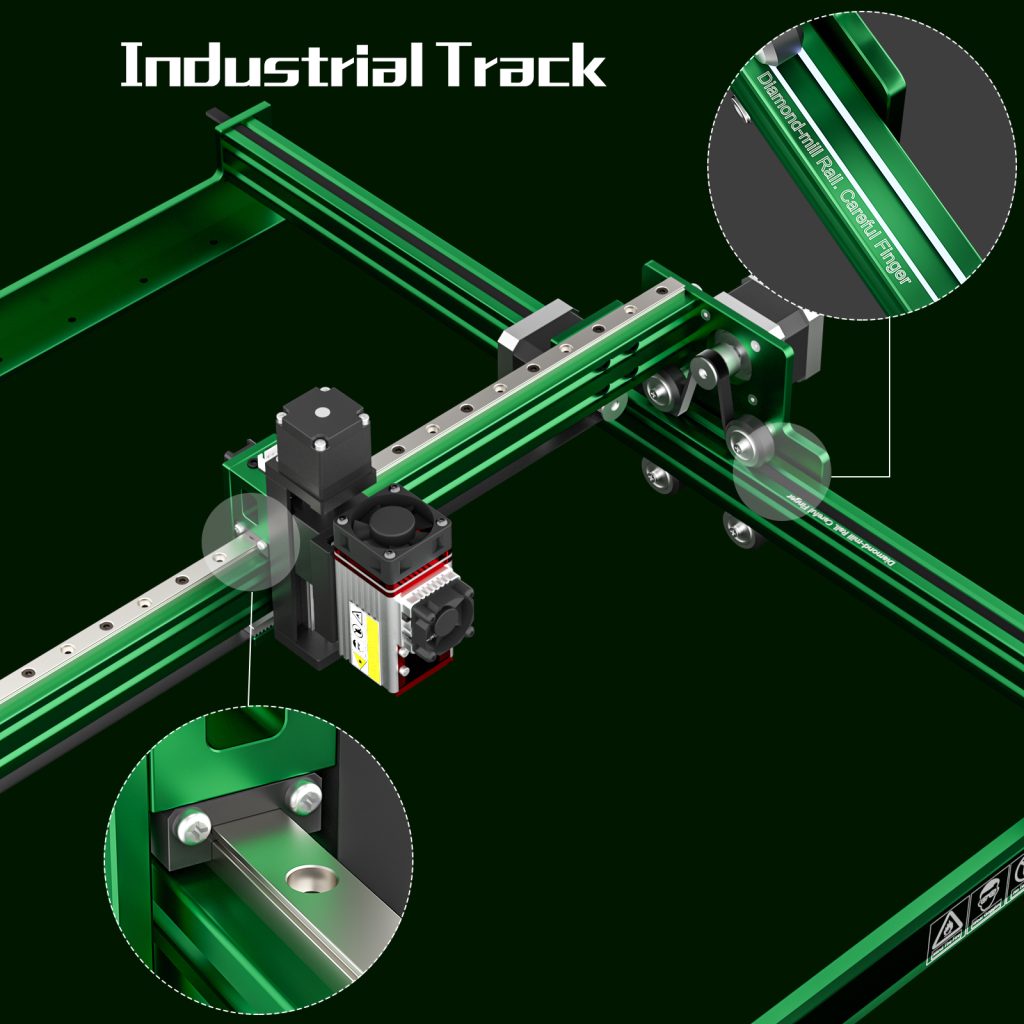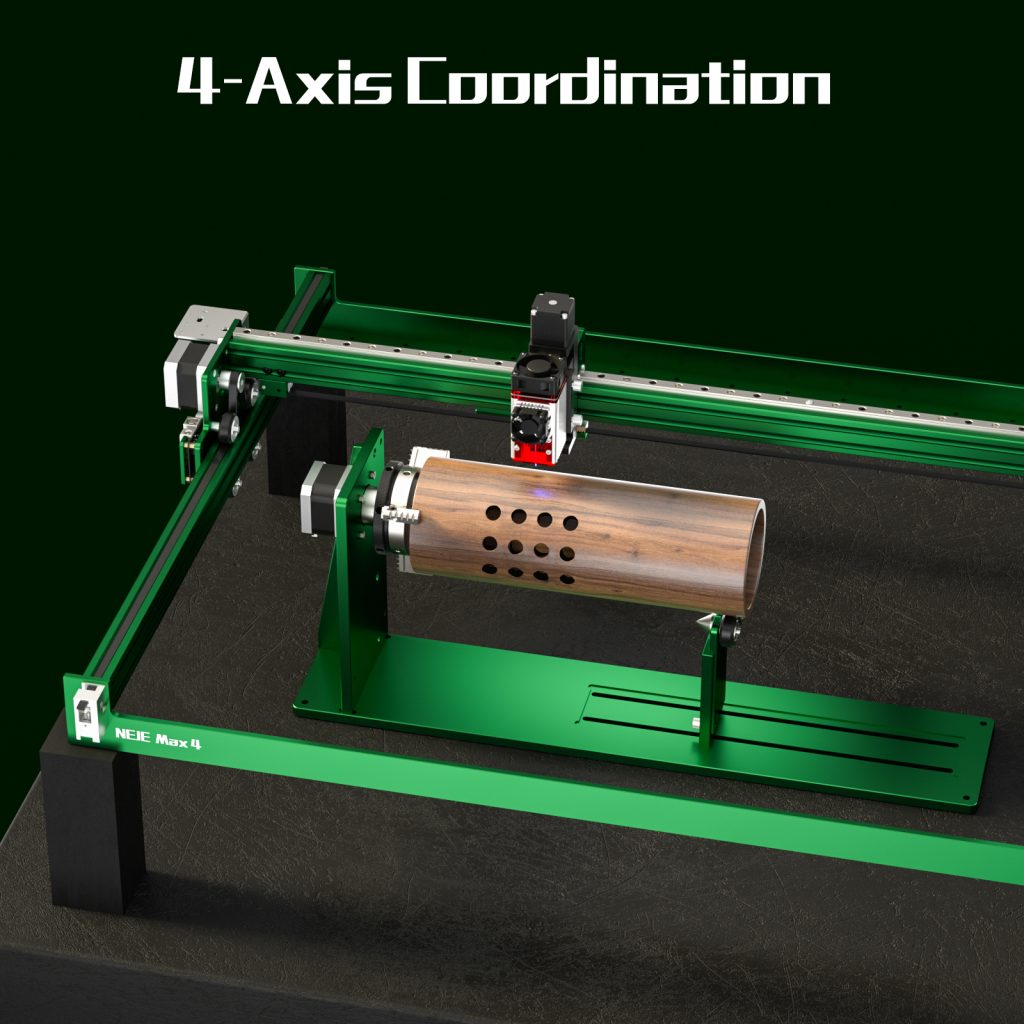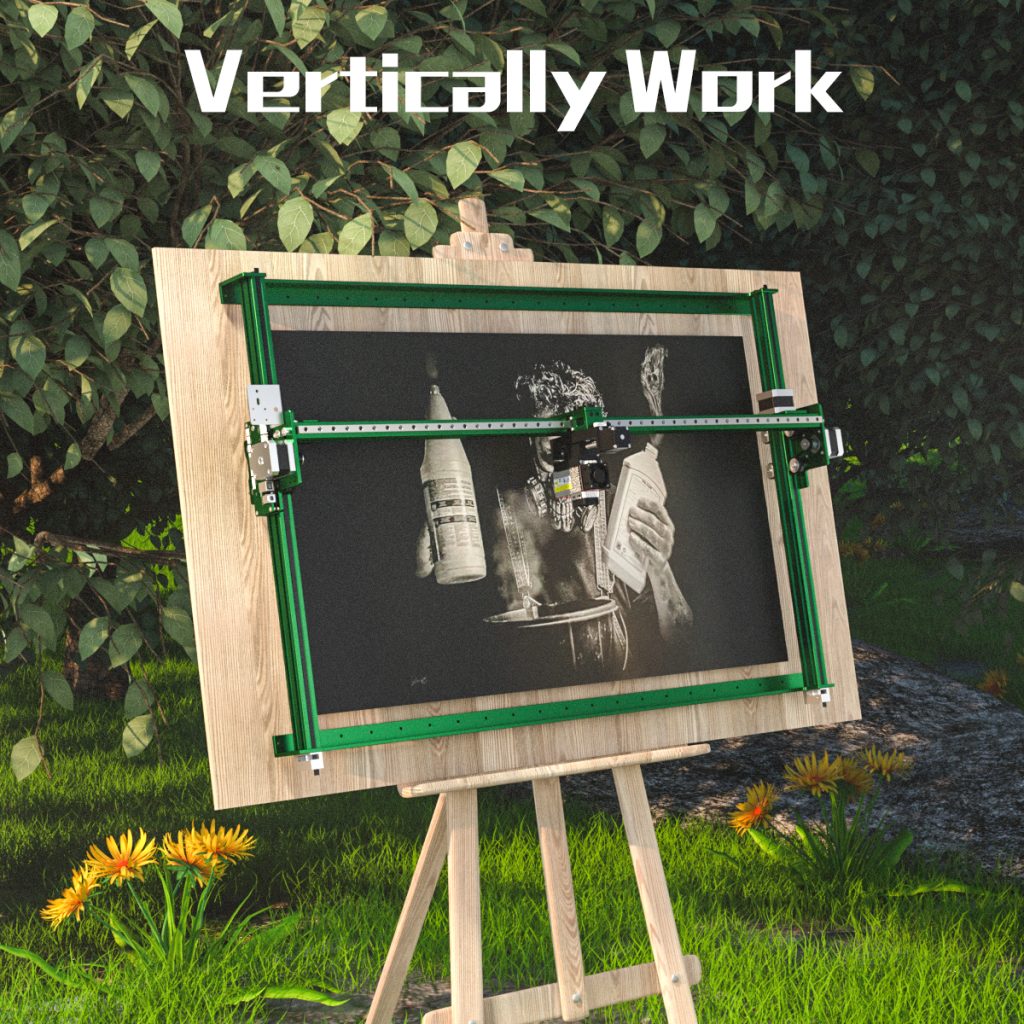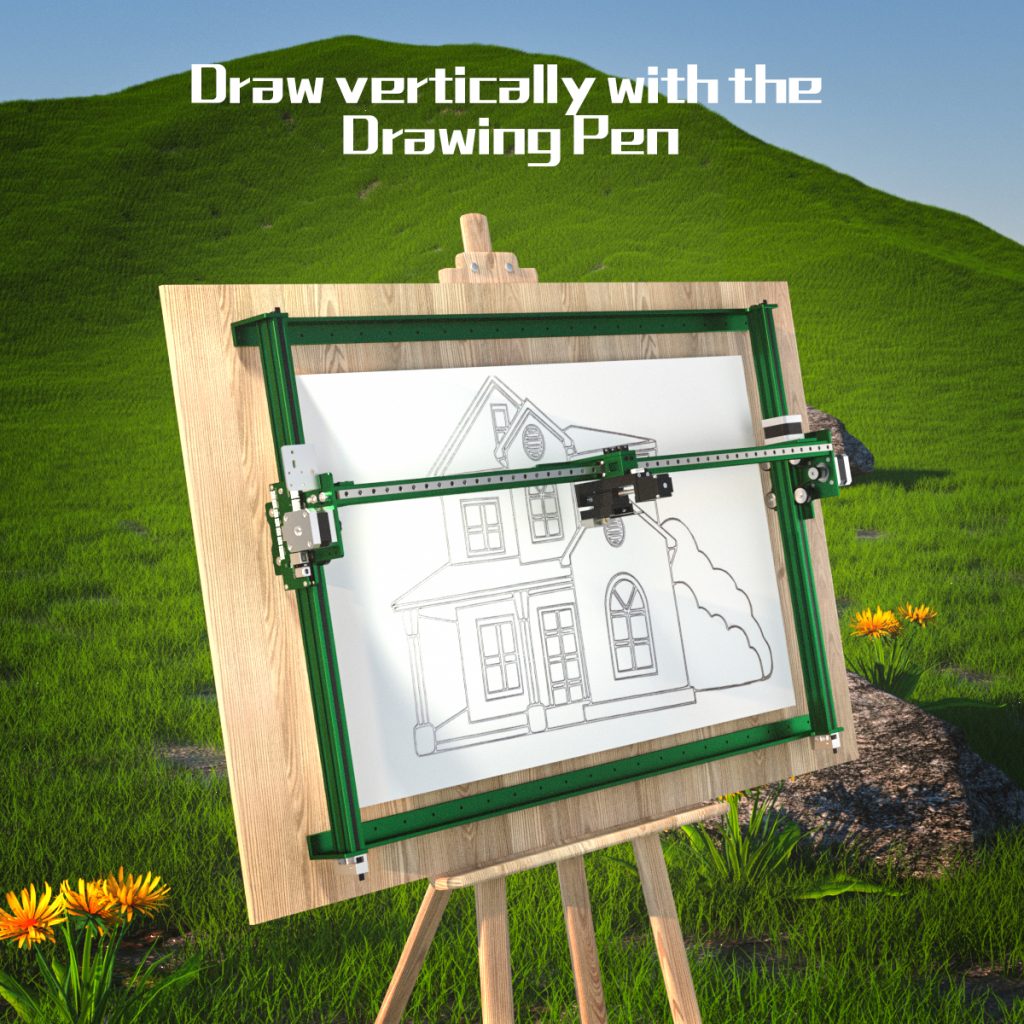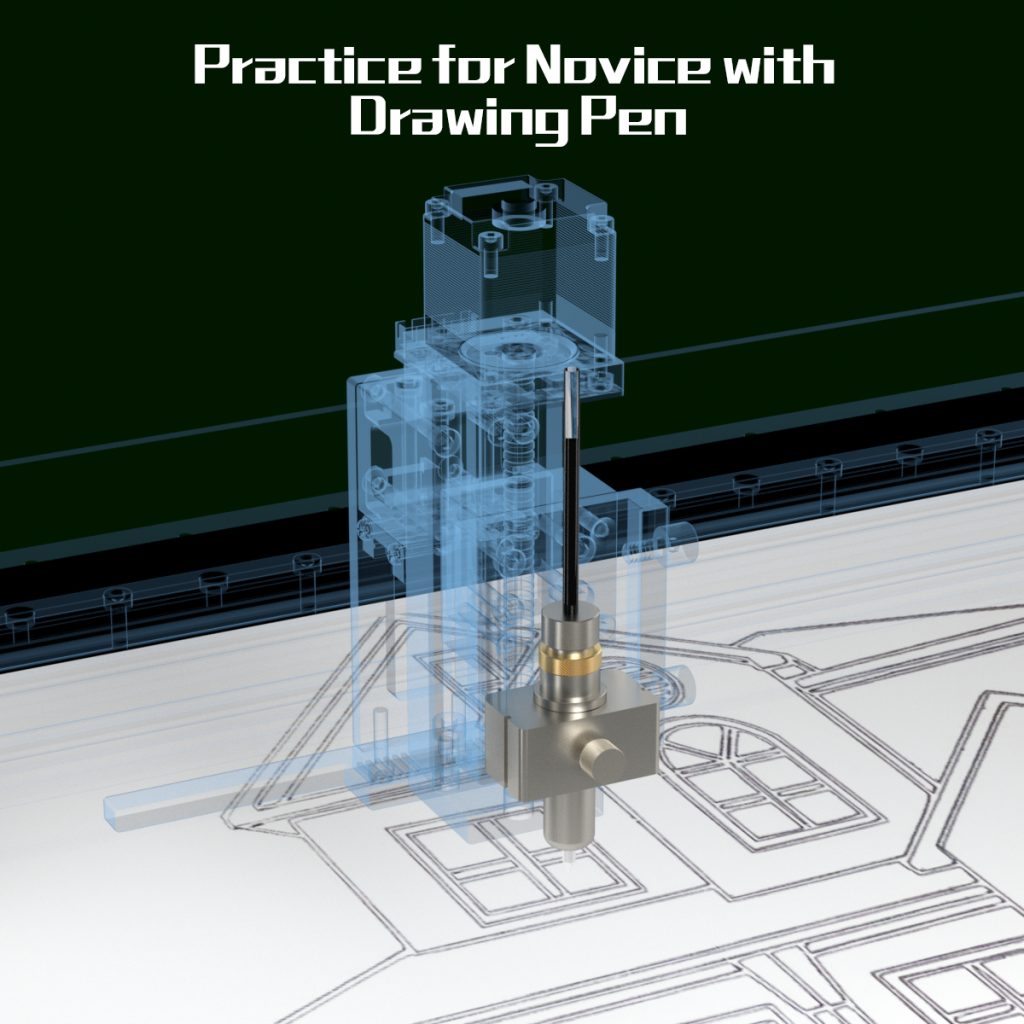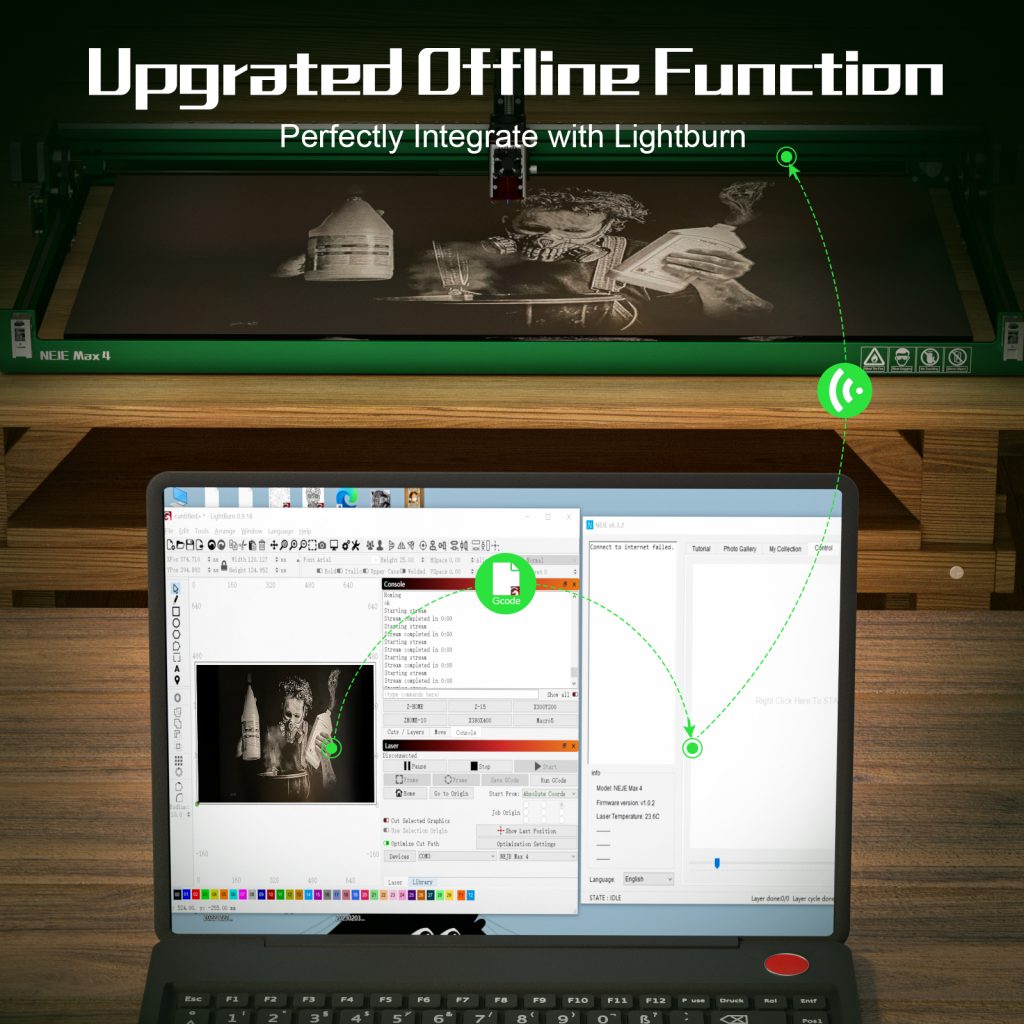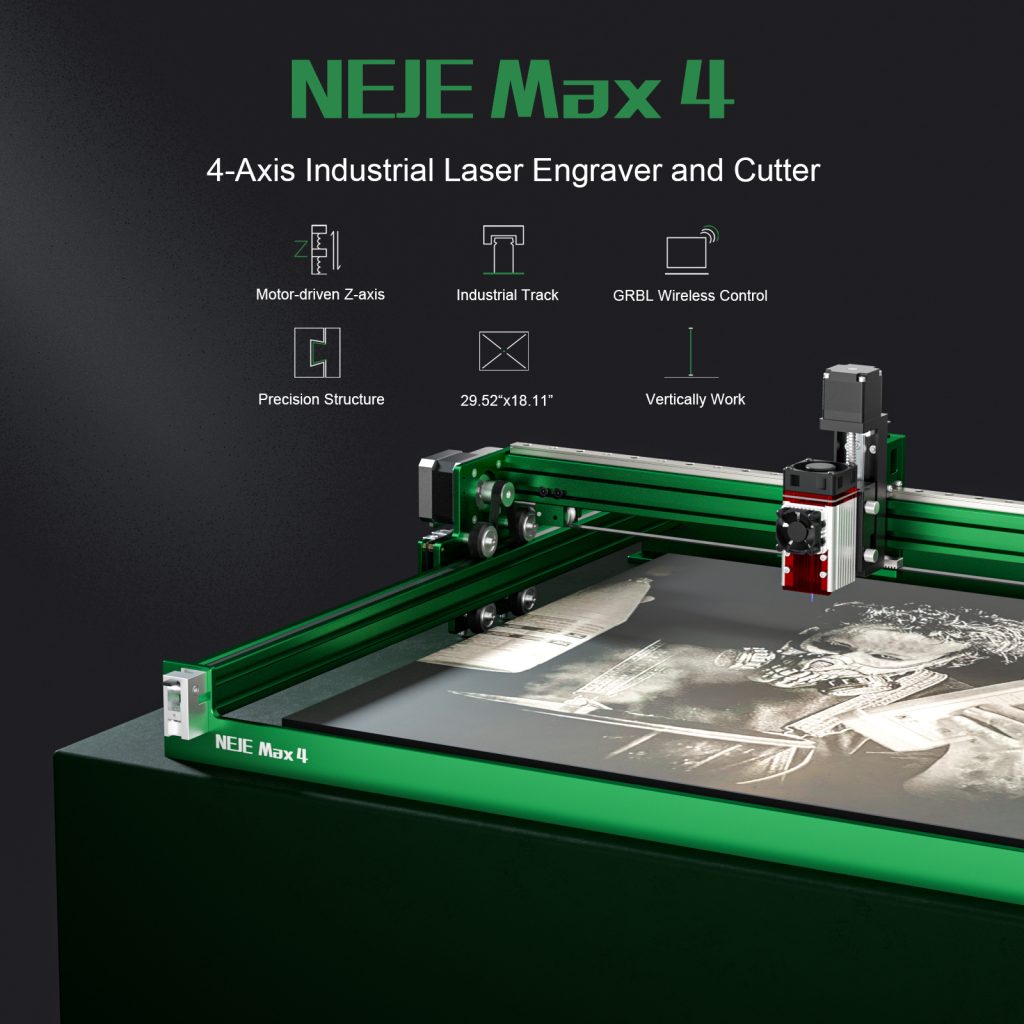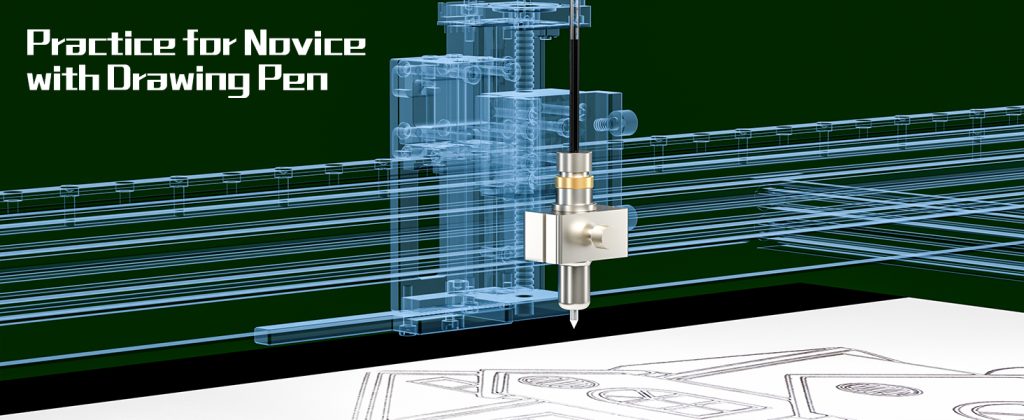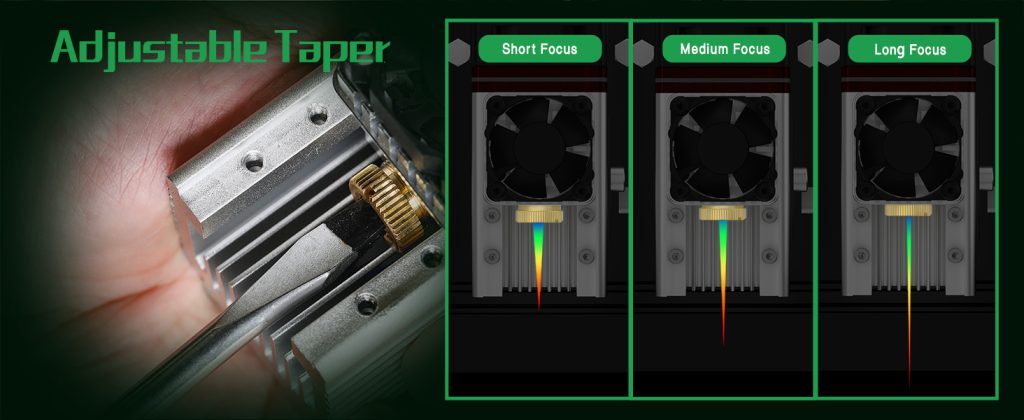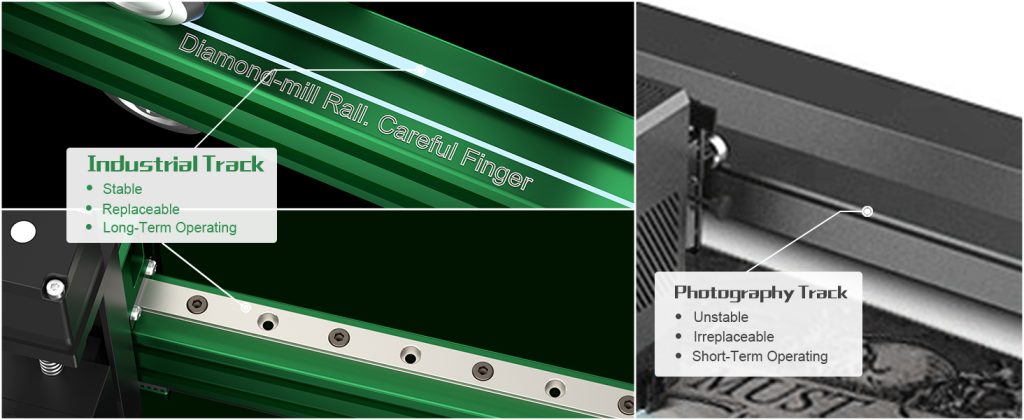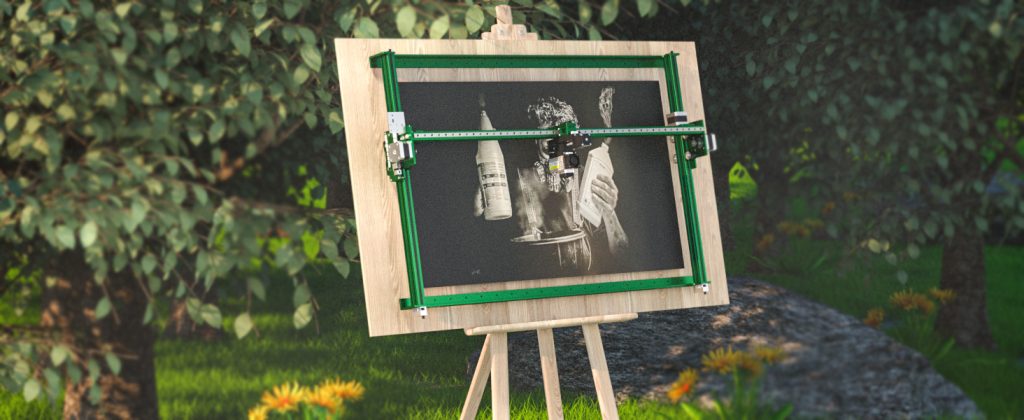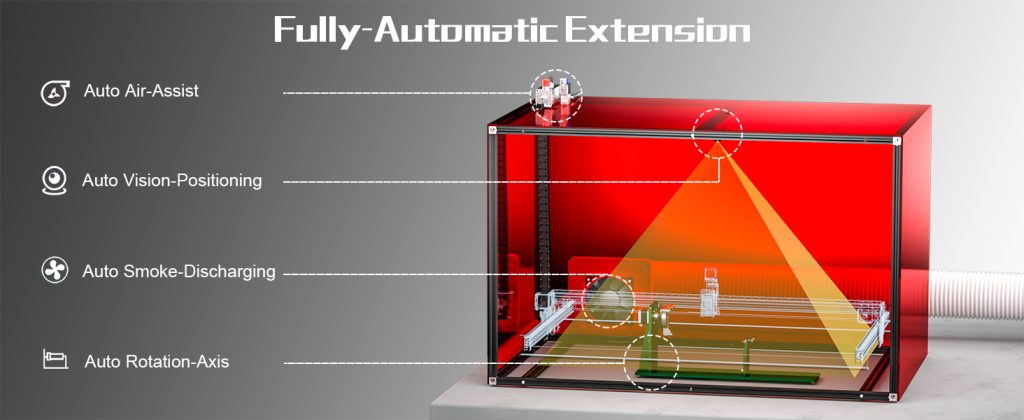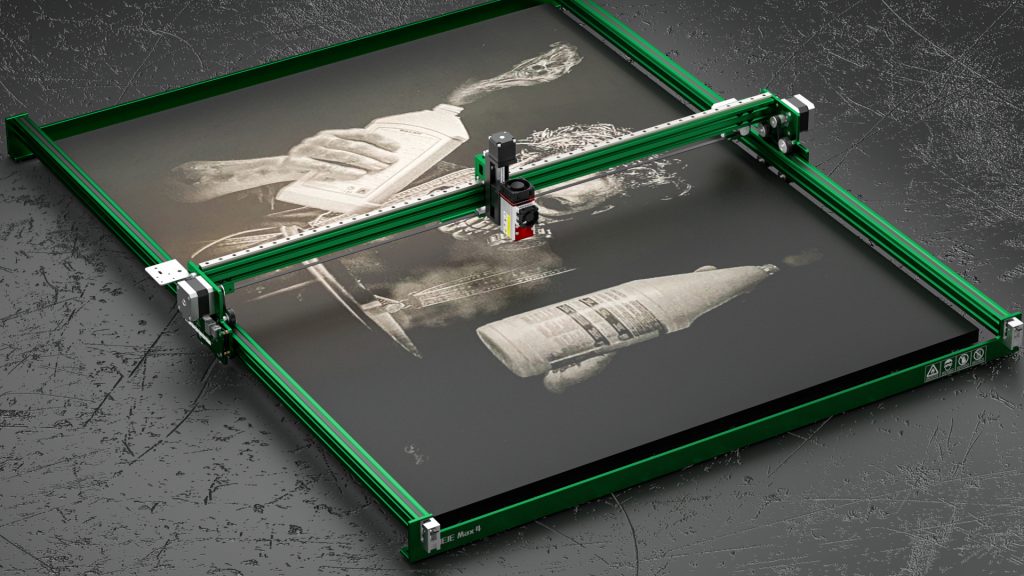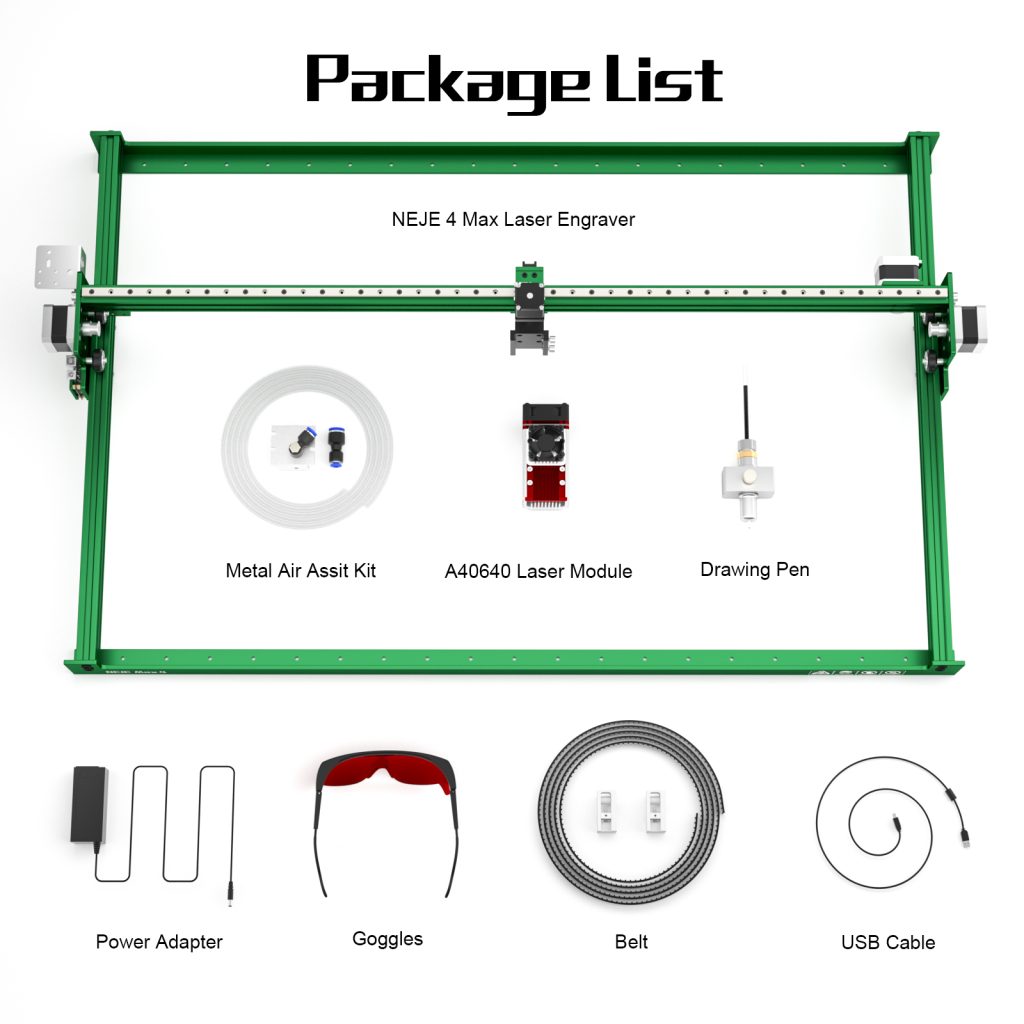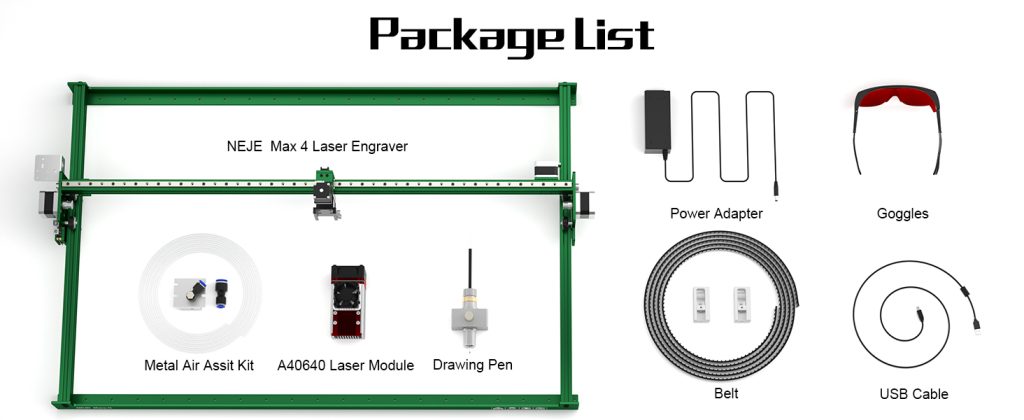 SPECIFICATION
NEJE 4 Max A40640 Laser Engraver
| | |
| --- | --- |
| Frame Size (L – W – H): | 970x582x60mm |
| Working Area( X – Y): | 750 x 460mm, Extends to 750x1030mm |
| Drive Accuracy: | XY-axis repeat positioning accuracy 0.01mm, Z axis 0.001mm |
| Number of Controllable Axis: | X,Y,Z,A four axis |
| Input Voltage: | 12V / 24V, Match according to module voltage |
| Limit Switch: | Yes, both XYZ |
| Max Move Speed: | 750mm/s |
| | |
| --- | --- |
| GRBL Offline Control: | Yes |
| M7,M8,Door Extension: | Yes |
| App control: | Yes |
| MEMS: | Yes |
| NEJE Software OTA Upgrade: | Yes |
| Vertical Carving: | Yes(90°) |
| Systems Support: | Win 7/Win 8/Win 10, Android, iOS, ipadOS, macOS |
| File Format Supports: | .GC/SVG/DXF/JPG/JPEG/PNG/BMP/TIF/CR2/AI/SC/etc. |
NEJE A40640Ⅱ Laser Module
| | |
| --- | --- |
| Optical Power: | Pulse 12W+, CW 11W |
| Focus Size: | 0.04×0.06mm |
| Input: | 12V 4A + |
| Interface: | 4pin PH2.0 + ( 2pin DC12v extra power) |
| Weight: | 204g |
| Number of Diodes: | 2 |
| | |
| --- | --- |
| PWM Input: | VPP(3.3-12V), Recomend 1KHz, |
| Quiet Design: | Drive the built-in control ic, judge the working state and adjust the fan work |
| Adapter Pluga: | 5.5 2.1 port |
| Working Voltage: | DC 12V |
| TTL&PWM Modulation: | YES. Compatible with Both TTL & PWM Modulation |
| Input Interface: | PH2.0-4Pin (+,-, PWM/TTL, Temperature), 3Pin (+,-, PWM/TTL) , 2Pin+2Pin (+,-) + (PWM/TTL,-) |
FEATURRE
New Electric Z-Axis:The NEJE 4 Max laser engraver is fully upgraded.Electric Z-axis with high precision is added, which can load up to 1kg and travel 45mm. It realize high-precision repositioning with the accuracy of 0.001 mm. In the lightburn software, the focus distance of each layer can be set automatically, and the thicker material can be cut efficiently through the control of the Z-axis. Meanwhile, we will send a drawing pen as a freebie, which is suitable for novice to practice.
High Power Zoom Laser Module: NEJE 4 Max laser cutter and engraver machine is matched with NEJE's classic adjustable A40640 12W zoom module, with focus of 0.04×0.06mm. A40640 is the most widely used high-power zoom module. The short focus is suitable for carving and cutting metal, acrylic, MDF and other high-density materials, and the long focus is suitable for cutting thick wood and other materials.
Industrial Track: The upgraded NEJE 4 Max laser engraver for wood and metal is equipped with an industrial-grade maintainable track.The service life is up to 20,000 hours. Through reasonable design and precise processing technology, the precision of the frame is improved, and the mechanical precision reaches 0.01 mm. The machine adopts a higher hardness alloy frame, which effectively eliminates the vibration of the equipment and improves the stability of the machine.
Four-Axis Control System: NEJE Max 4 is the first laser engraving machine on the market that can realize 4-axis collaborating. Through the collaborating of X-axis, Y-axis, Z-axis, and A-axis, it can automatically complete more precise processes. Through expandable functions, the machine can automatically complete M7, M8 auto smoke discharging, air assist, door safety functions and visual positioning functions, and perfectly integrated with various extended functions of lightburn.
750 (X) * 460 (Y) * 45 (Z) mm working area, Y-axis track can be extended to 1030mm, in 3-dimensional space, it can support simultaneous processing of various items with different thicknesses. Compared with the ordinary 400x400mm frame, the work efficiency increases by 400%.
You can transmit Lightburn working files and control the device wirelessly.NEJE uses the combination of built-in virtual instruction mode and Bluetooth technology to transmit and control professional multi-layer gc files wirelessly through NEJE. NEJE retains the "One Key Start" function, eliminates the backward sd card mode, and allows the device to work without occupying your computer.
The drawing pen is included in the package. It can draw images, which can let children and beginners experience the fun of CNC. It can also draw paths with the drawing pen, and preprocess advertising materials that cannot be processed by laser wavelength.
The processing speed is 24000 mm/min,it's faster than 400 mm frame's peak speed. The combination of Max 4 and NEJE high-performance module makes the efficiency reach an excellent state. With NEJE A40640 high resolution and high pulse energy module, it only takes 10 minutes to draw 300×300 mm works, and the painting performance of exquisite art works is delicate and unexpected
The repeated positioning accuracy of Y and Z axes reaches 0.001mm, XYZ axis includes automatic reset, and the repeated positioning accuracy after reset can also reach 0.01-0.001mm. The X axis adopts industrial linear track, and the Y axis adopts NEJE special design diamond tool to cut linear track, which has a longer lifespan and precision.
The new Max 4 machine has industrial-grade structural accuracy. All parts are calibrated by high-precision industrial master machine, linear track correction, and the installation direction of each plane is precisely matched, making the operation of the module more accurate and stable.
The machine has anti-jitter design, so there is no ripple in such a large area of lightweight equipment. NEJE can effectively eliminate the jitter of precision drawing by customizing alloy materials with different hardness and matching reasonable shock absorption design.
The new built-in anti-static design will make the equipment more stable and reliable
It is compatible with all 12V and 24V modules of NEJE (only E80 is 24V module at present) to realize the application of different materials and different process requirements
Support Wireless Offline Work: NEJE 4 Max supports wireless offline work. You can create everything you want in Lightburn and use NEJE software to operate the machine wirelessly. Offline work distance within 10 meters is available.Without computer's restrictions, you can operate the machine anytime and anywhere. NEJE provides a 2-year warranty for products sold. If you have any questions, please check our support website, where you can get professional technical support in time.
Relate post
Topic
Other support