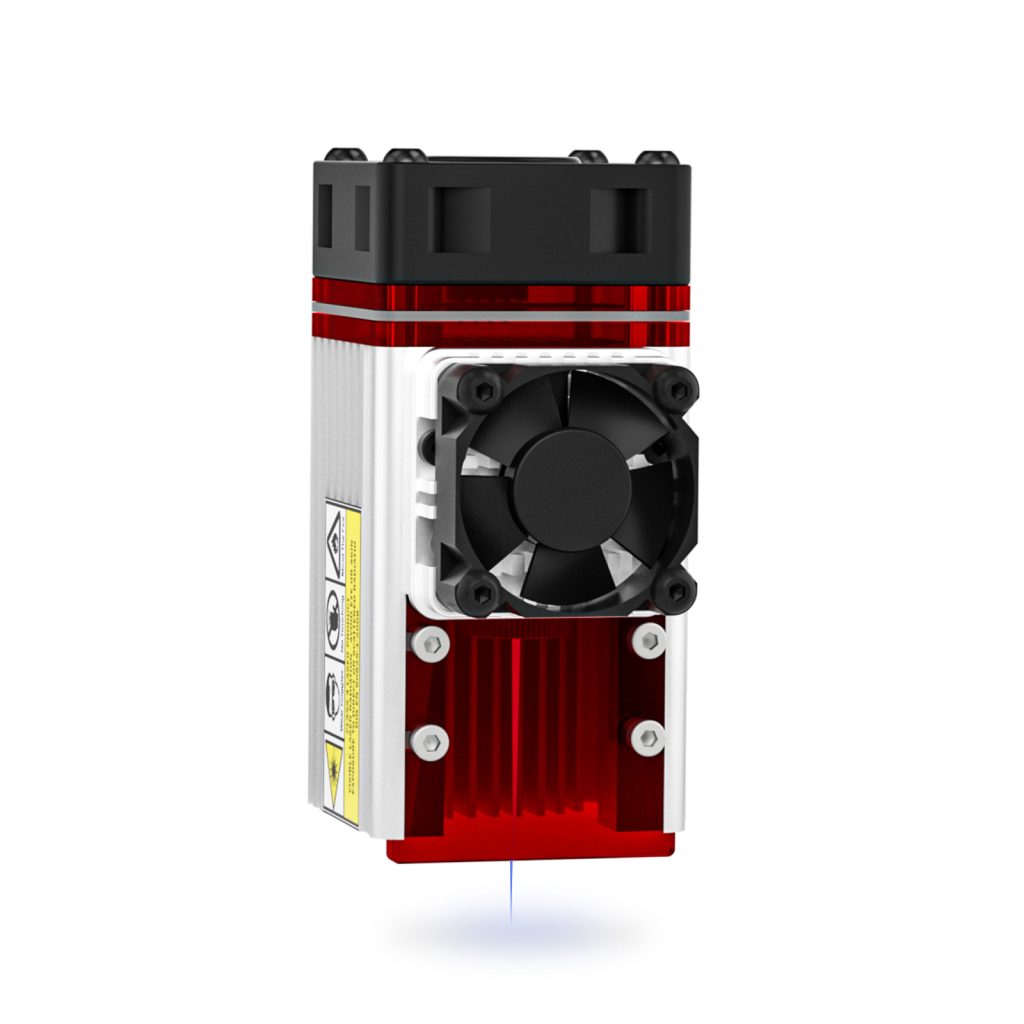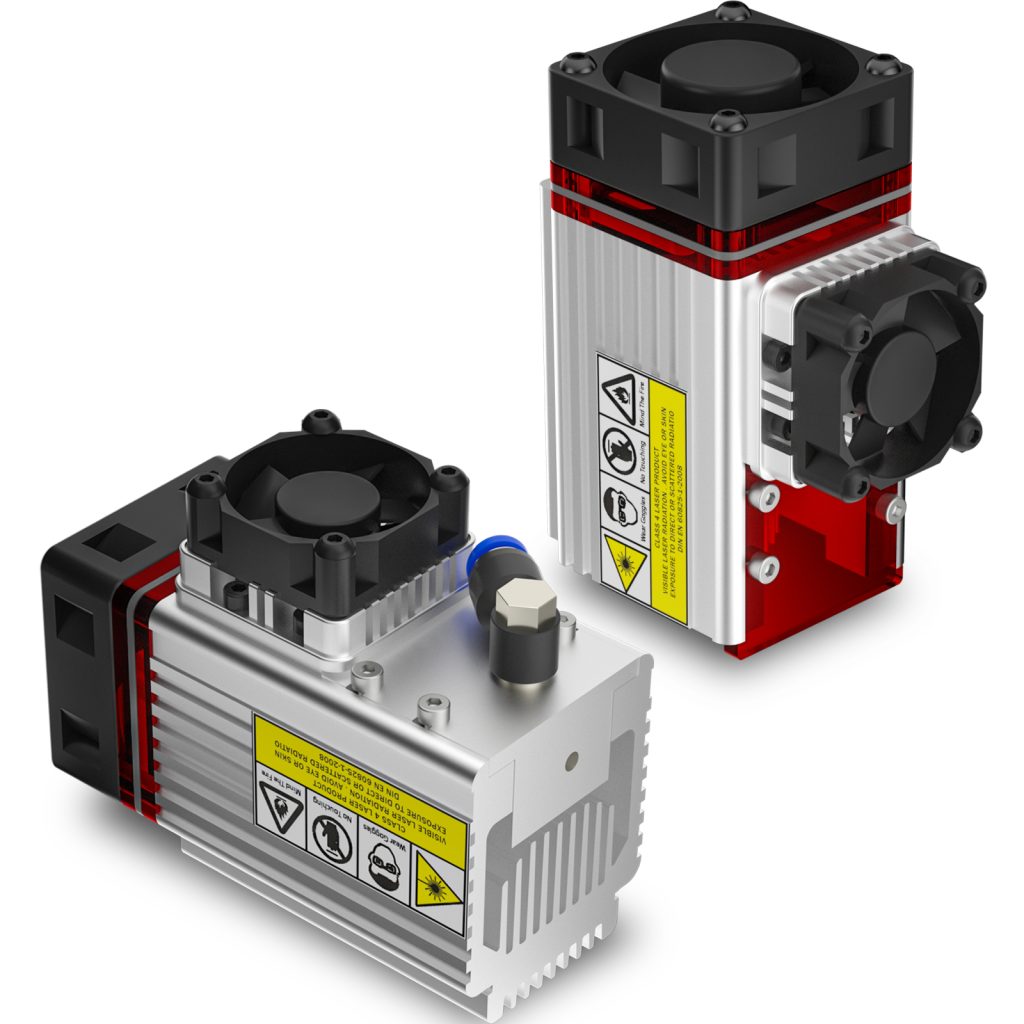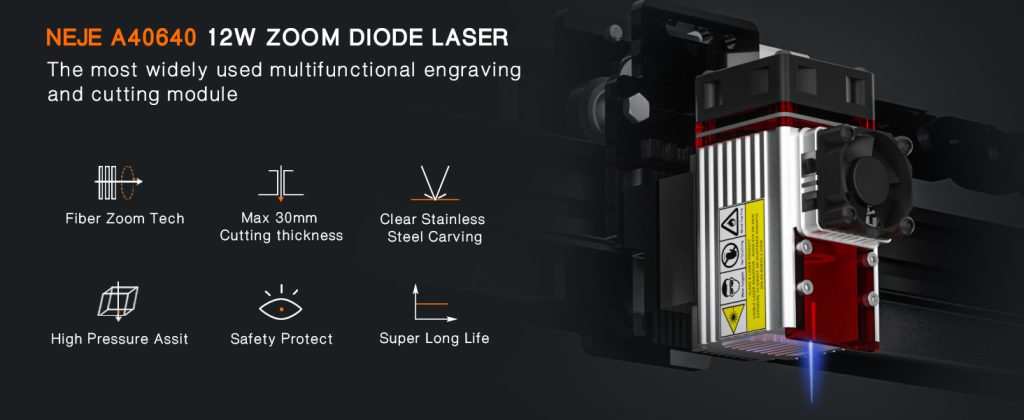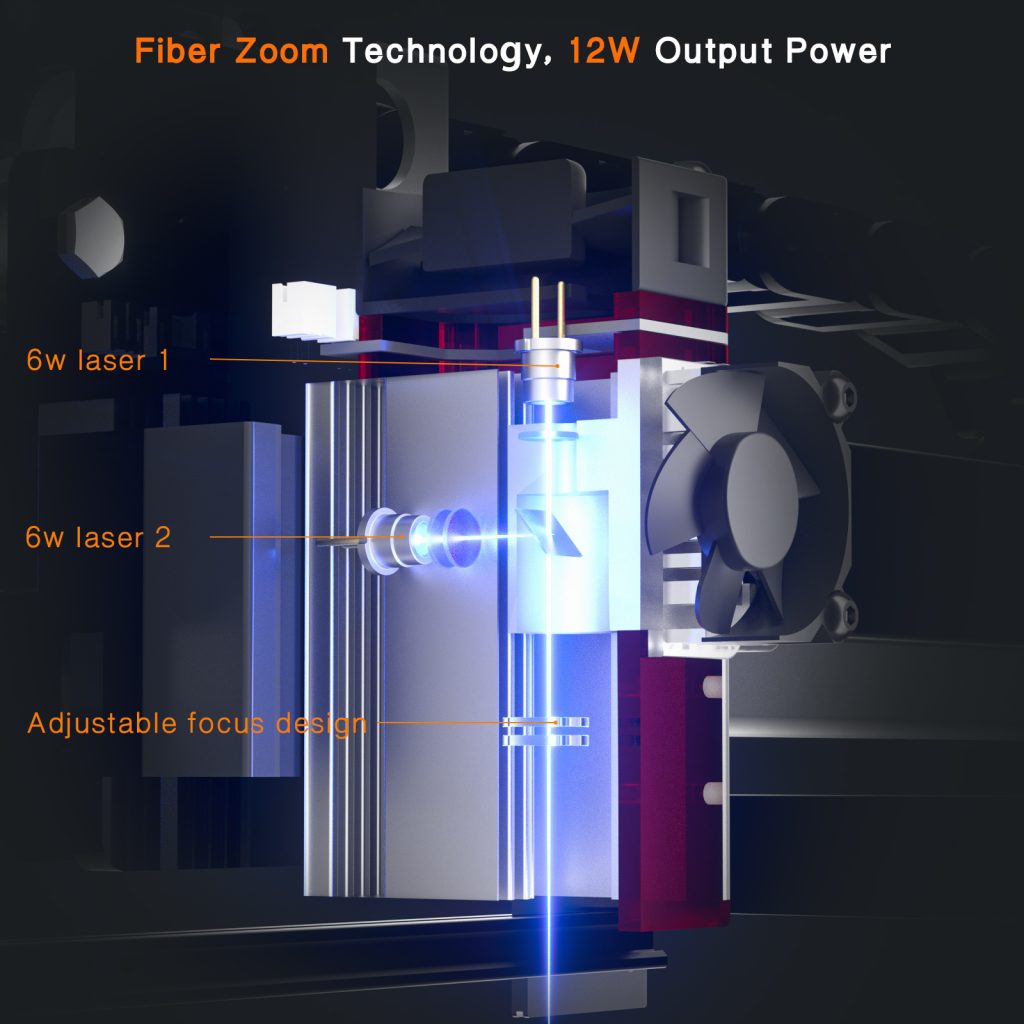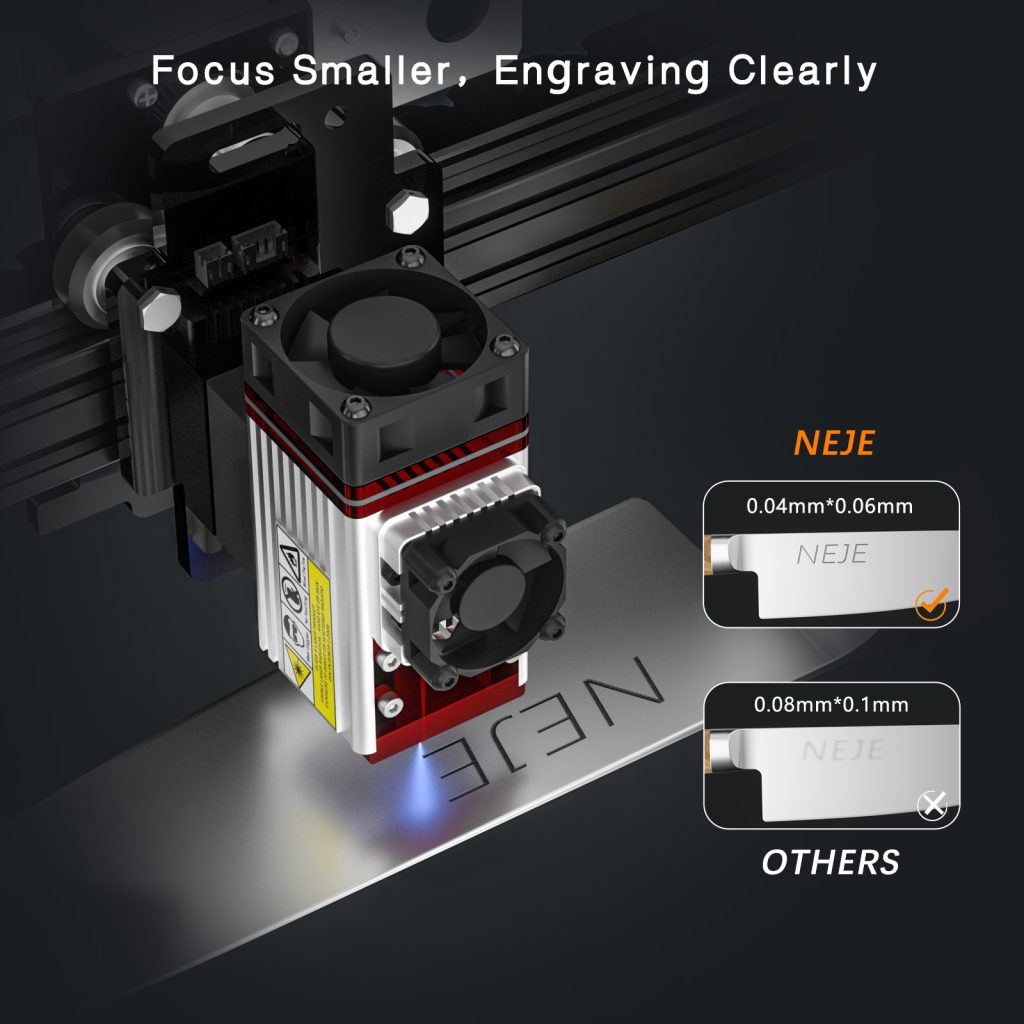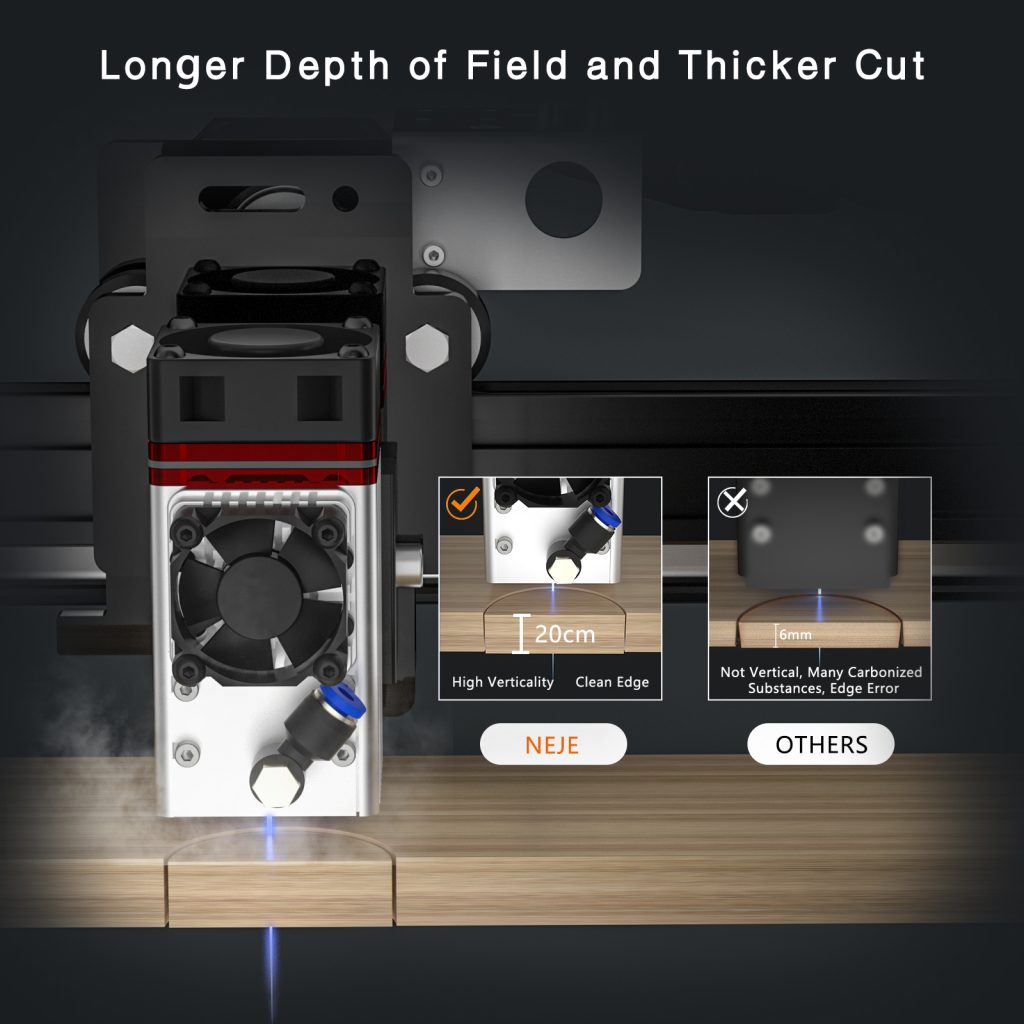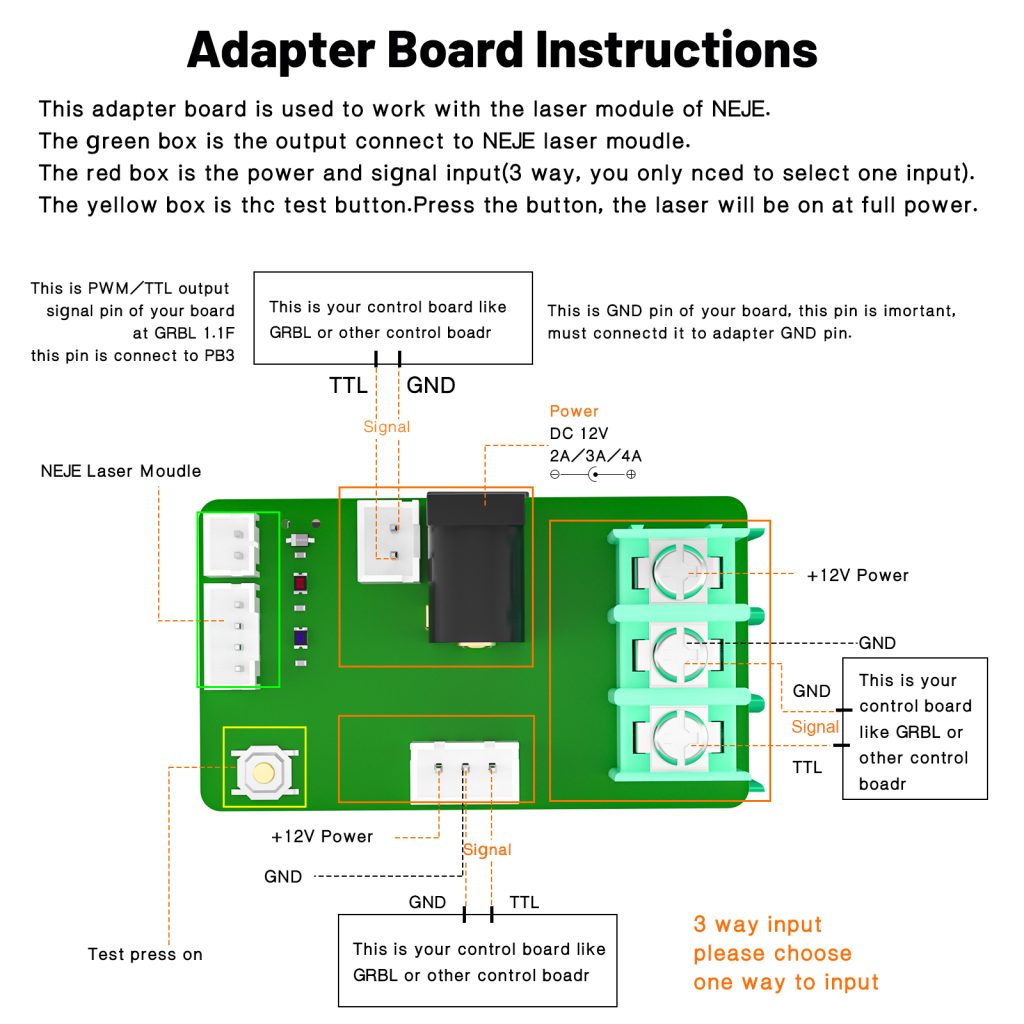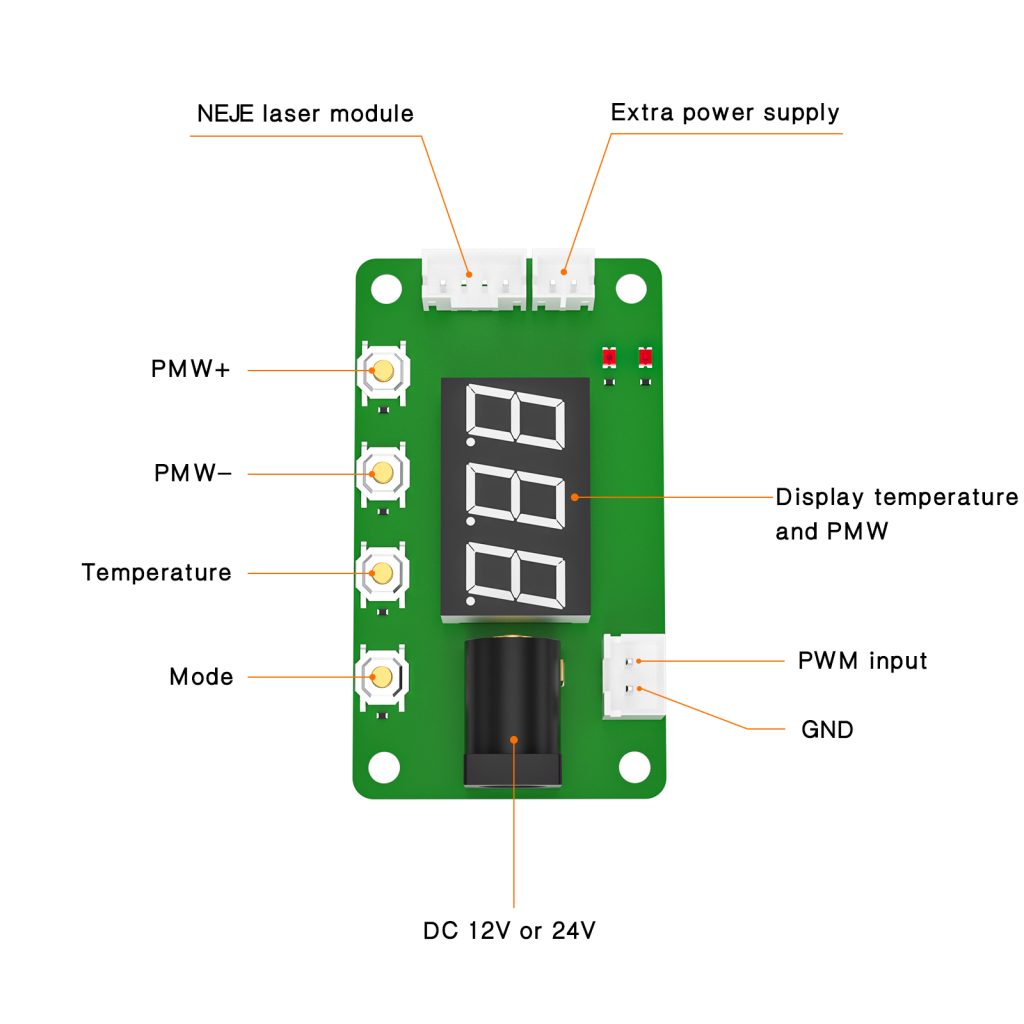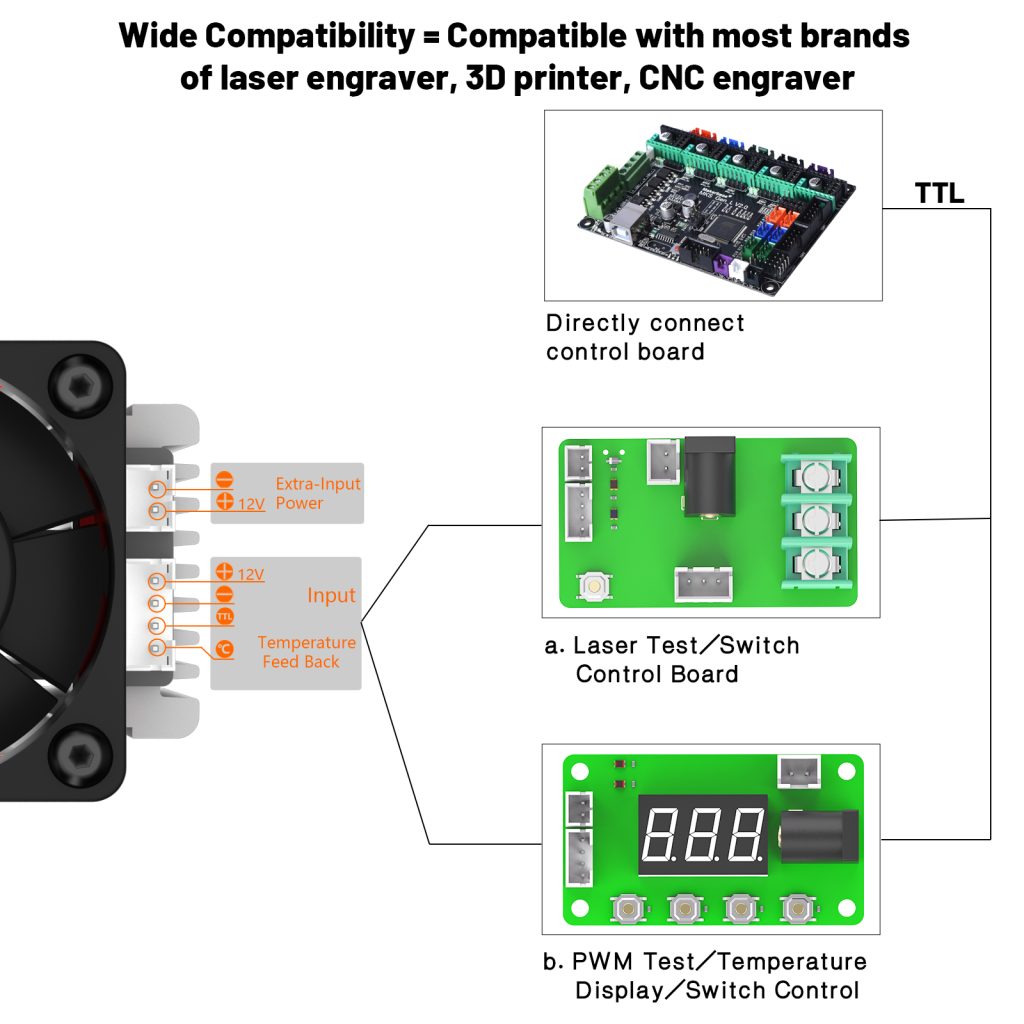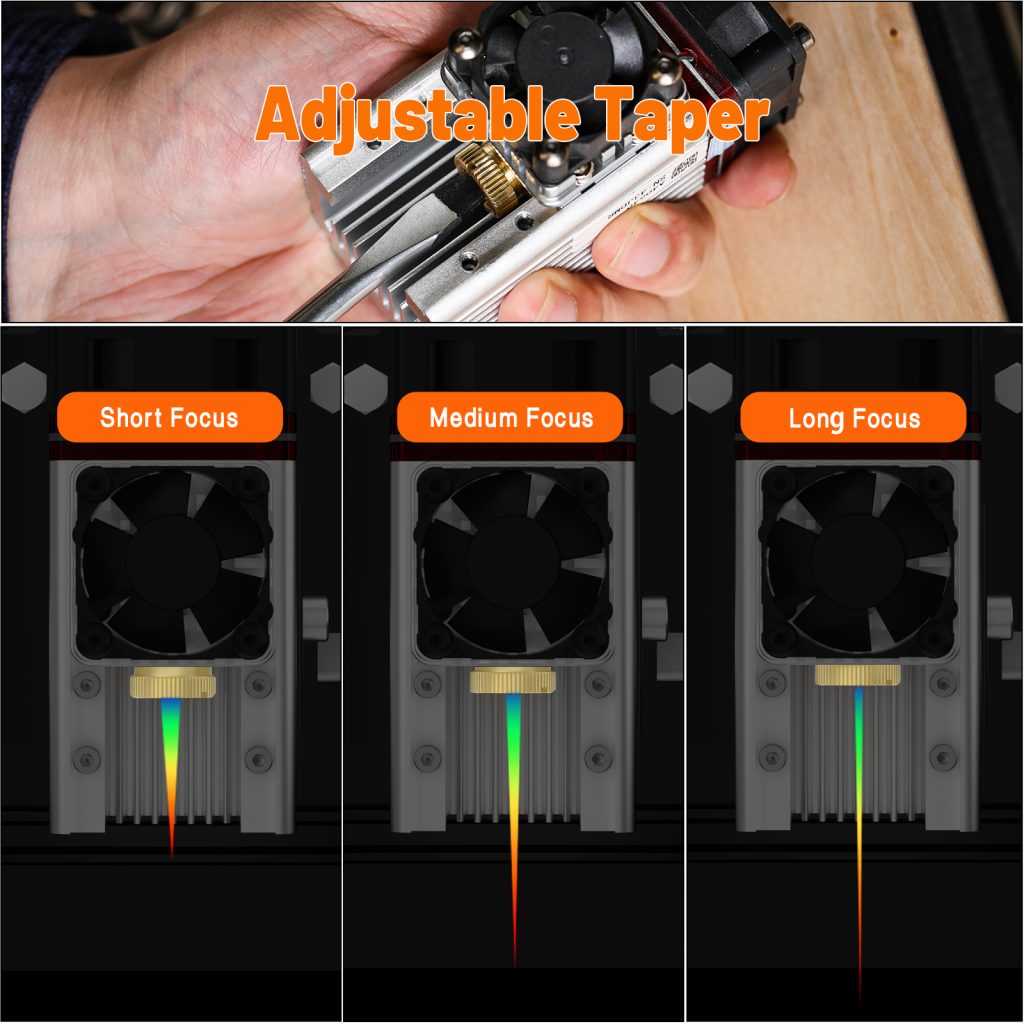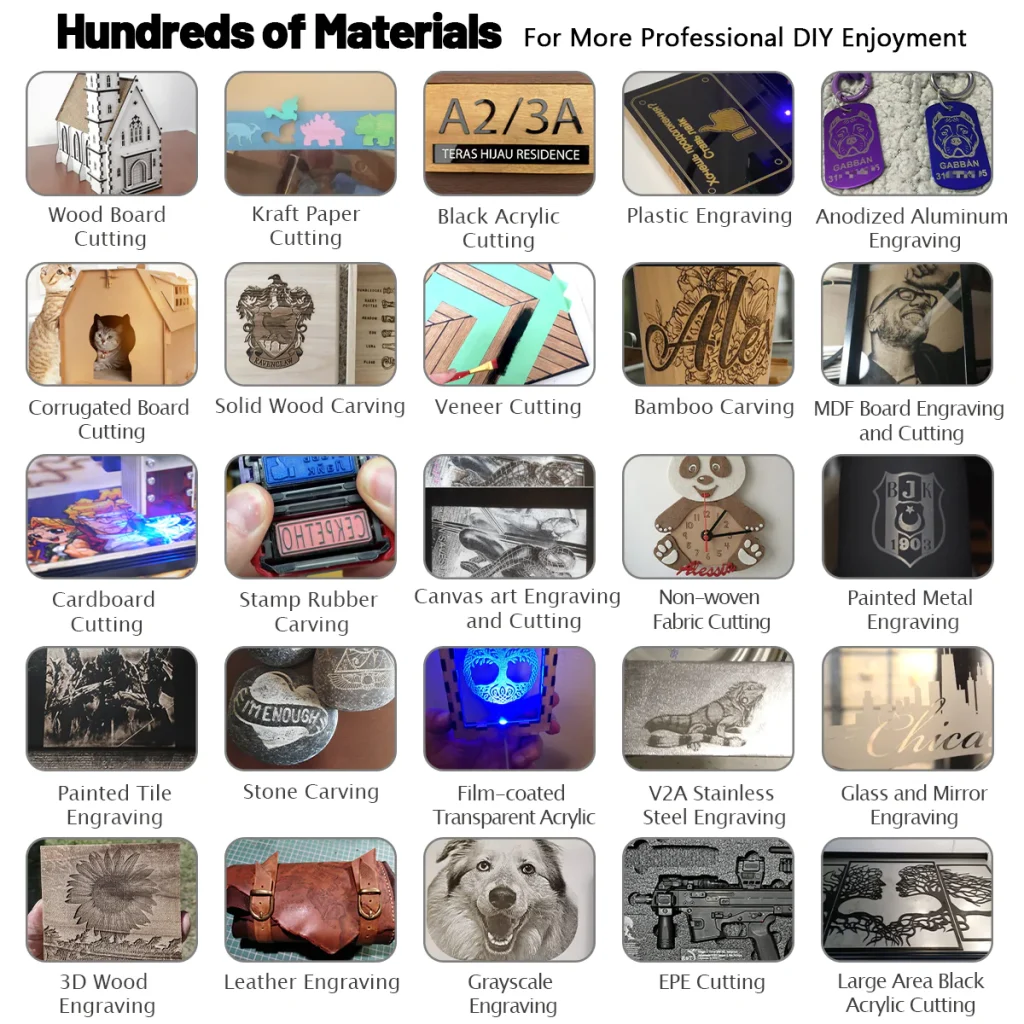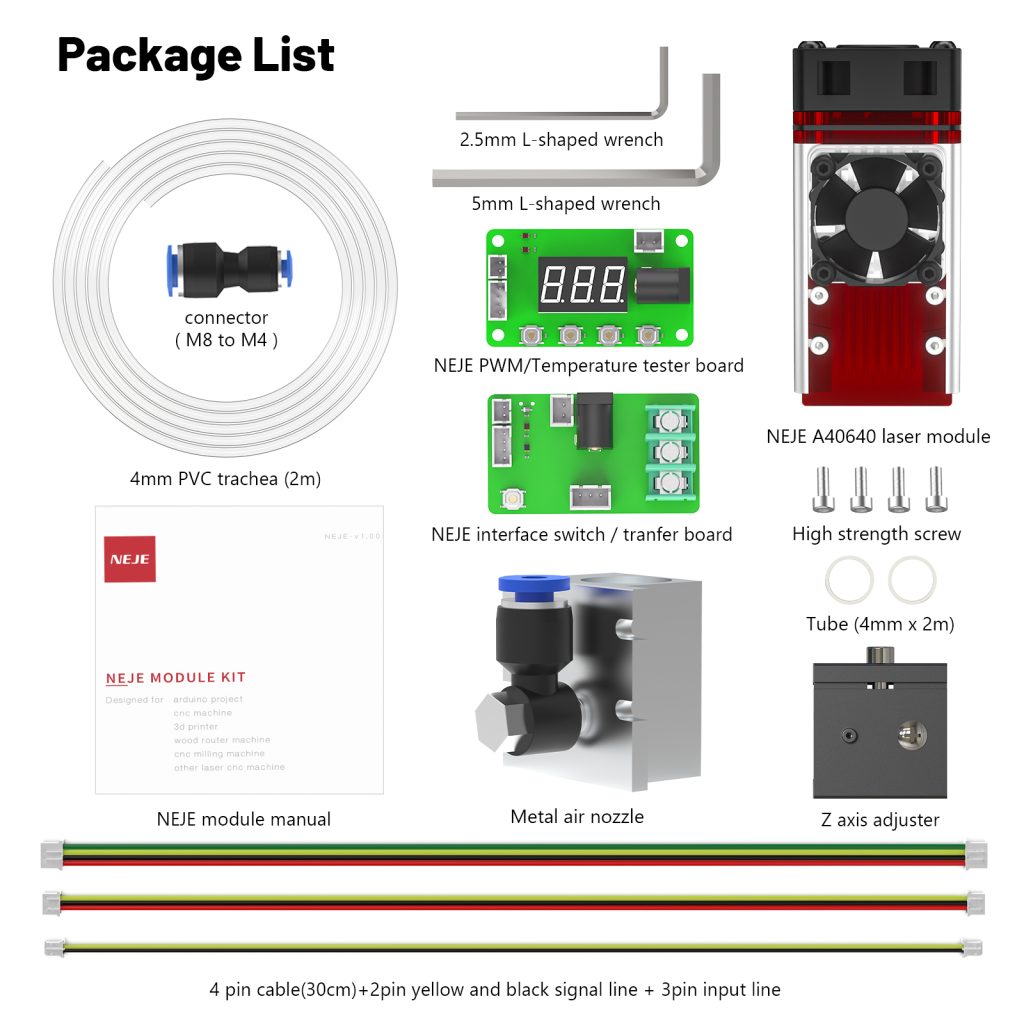 Description
A40640 (The most widely used module) is a classic creative master dual beam zoom laser module, it is the world's first 2 beam laser diode engraving and cutting module with zoom design, with the best metal engraving ability, fast groove engraving ability, thick material cutting compatibility, Make it the most widely used module. Due to the built-in NEJE unique fiber compression technology, It has a very strong energy density (0.04×0.06mm with 12W+ pulse and 11W continuous optical power), There are very special and top artistic expressions on the carvings of stainless steel grayscale carvings, stone carvings, Glass Carving, hardwood reliefs, canvas art, and other materials. The A40640 is the only high-power module with variable focus section, The optimized A40640 II has higher cutting reliability, The short focus is suitable for carving hard materials such as metal stone and cutting materials with high density such as mdf, The long focus has better depth of field and smaller included angle for cutting thick wood and other materials. The excellent design makes the A40640 have a very strong vitality from the first creator of high-power diode laser to today, Due to the high power density, it has an equivalent application higher than 20W (optical power) laser in large area image engraving, If you only consider 1 module to help you solve all the needs, it is the best choice.
SPECIFICATION
A40640 Laser Module
Focus: 0.04×0.06mm
Focus method: adjustable ( 30-70mm from lens )
Optical power: Pulse 12W+, CW 11W
Max scanning speed: 1000mm/s (mdf material clear test results)
Compatible: compatible with any 24V or 12V equipment, independent power supply, controlled by ttl 2pin signal of the equipment
Replaceable lens design: Yes
Stainless steel direct grayscale engraving: Yes
3D hardwood engraving: Yes
Maximum cutting thickness: 20mm
Wavelength: 450nm
Weight: 204g
Module Size: 40x50x85 mm
Input: DC 12V 4A
Interface: 4pin PH2.0 + 2pin PH2.0 (Standby additional power supply: used when the continuous working power supply line is long or the internal resistance is large)
Compatible with: NEJE 3 Max, NEJE 3 Pro, NEJE 3 Plus, NEJE 2s Max, NEJE 2s Plus, etc…
Power control: PWM Power Modulation
Fan: double ball high life fan
Drive: NEJE smart quiet drive, built-in static elimination technology.
Surge protection: Yes
Smart feedback: Yes
Temperature feedback: Yes
Temperature control: 45℃
air pump: ACO 328+ air pump, or 30psi+ waterless air pump (used when cutting mdf / leather and higher density materials. Needle type air nozzle supports oily and water-containing air source, and sealed air nozzle can only use clean air pump)
Air interface: 4mm pvc trachea
Warranty: 2 years
Warranty Statement: Power not less than 50% ,Generally, the service life under comprehensive working conditions can reach 5 years. Please do a good job of moisture-proof and dust-proof treatment, The lens needs to be cleaned regularly according to the selection of air source. The lens does not belong to the free warranty. The conditions of NEJE's free after-sale policy must be met under the conditions of non-human disassembly and misoperation and use in the correct environment.
Relate post
Topic
Other support